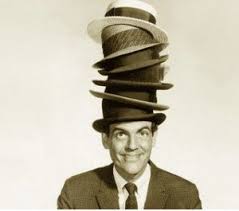 Wearing all the Hats
As the weather slides back and forth between yes, there will be spring; no, winter is still with us; and hey, let's have summer now- I think about all the hats we wear here, literally and figuratively.
On the literal side, the installers have both ball caps and knit winter caps for protection from sun, wind, rain and snow, as well as heat and cold.  Alexa wears her garden hat when out laying out plants in landscapes and working with the crews. Carol or I will wear a sunbonnet with fresh flowers, when we attend Hat in the Garden for the Sparrow fundraiser at Stella Cash's lovely home and garden.  At holiday decorating time, you might see the occasional red Santa hat, usually a humorous statement on our status as elves bringing Christmas joy. Hardhats are required when we work on active construction sites, whether walking through as designers, or returning to install green walls or plantscapes.
On the figurative side, we are designers, procurers, florists, assemblers, installers, bookkeeper, crafter of proposals, planters, schedulers, plant nurturers, managers, purchasers, carpenters, mechanics and cleaners. We all work together to serve you.
Most of us wear multiple hats, sometimes switching roles several times in one day.  On a May morning, an installer may begin the day sleeving and installing a plant rental at the Kellogg Center, then join a crew planting outdoor color. He might then swing back to Kellogg and pick up the plants at the appointed time, return to base to unload, and finish the day, watering hundreds of flats of annuals waiting to be installed.