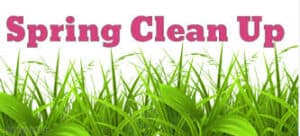 Spring Clean Up
As Old Man Winter releases the last of his hold on the garden, it is time to think about preparing the landscape beds for the coming growing season. For many, the words "spring clean-up" brings thoughts of deep cleaning, shampooing carpets, washing windows, washing walls, and thorough dusting in the interior of the house.
For us, "spring cleaning" has another meaning. This is the time to improve the appearance of your yard and bring tidiness to your views after a long winter. The yard should be a source of pride, and enjoyment for your neighbors.
When cleaning up after the effects of winter, start with removing any trash or litter that has blown into the yard and beds. In the perennial beds, remove any dead leaves, annuals, or stalks remaining from last season. Cut down any ornamental grasses that weren't removed in the fall.
Removing the leaf debris is very important. Insects, insect eggs, disease and fungus can overwinter in the leaf matter. Leaves can also smother the new growth in the spring.
In established planting areas, working in additional compost around the plants is a great way to fertilize the beds. Early spring is the time to apply a pre-emergent herbicide to prevent weed seeds from germinating. Crabgrass germinates when the soil reaches 55 to 60 Fahrenheit. Be sure to apply prior to those temperatures. This is the season to recut the bed edges, giving them a neat, crisp edge to hold in soil and mulch, and keep grass from growing in as spring progresses.
Trees and shrubs also need attention. Be sure to remove all dead, broken or diseased branches. When pruning to give a more aesthetically-pleasing appearance, keep in mind the bloom time of your flowering shrubs and trees. If the plant material blooms in the spring, wait until they are done flowering to prune, so the displays of blossoms are not affected.
Remove any fallen sticks, branches, and leaves from the lawn in anticipation of the first mowing of the season.
Use the contact form on the side of the page to get in touch with us!