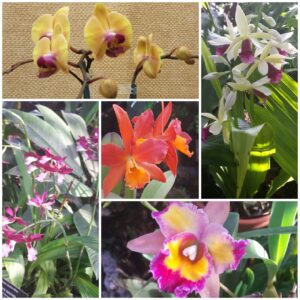 Orchids
Orchids are exciting, due to the wide range of flower colors and shapes, and to the relative ease of breeding new varieties. Though we use orchids as cut flowers in corsages and in event florals, the most common use is as potted flowering plants.
Phalaenopsis, or Moth orchids, are the most common species of potted orchid we use. Purple, lavender, white, green and yellow and spotted Harlequin are all possible colors naturally, and dyed flowers can be found in shades of blue. These plants grow best in a bark-based orchid mix, though sometimes they are sold in sphagnum moss.  Roots love to be moist but never wet, so orchid grow pots have many drain holes, allowing water to run through quickly. Always check for standing water in the catch basin and remove this water within an hour after watering.
In the commercial environment, we use these potted orchids in a beautiful cache pot, and slip out the plant as the flowers begin to drop. We then replace with a new plant flowering in a different color. Depending on lighting, plants may be in bloom for 3-6 weeks or longer. Orchids are a lovely accent that adds color and style to any indoor space.