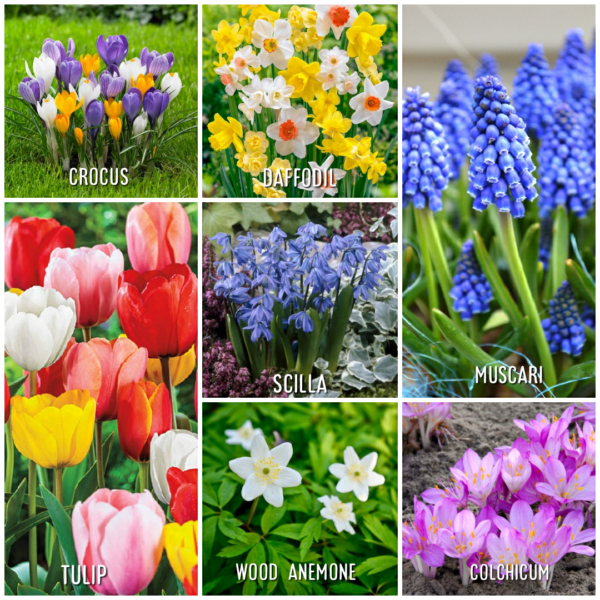 Plant Now for Spring Excitement
Oh, how we love the first color of spring in our gardens. Bright crocus, tulips and daffodils planted in September and October really lift our spirits in March and April. For those of us with deer or rabbits, hyacinths, daffodils and even alliums are good choices to minimize the predations of the hungry herds, as these bulbs are toxic, taste bad, or both. Tulips come in many colors and bloom times, but they require full sun to thrive and often bloom just 2-3 years before fading away. Definitely worth the investment if they are your favorites, but don't be shocked if they slowly disappear while daffodils become more numerous. Snowdrops, English bluebells and winter aconite are less fussy and more likely to thrive. Spring bloomers that will gradually multiply and spread are labeled as easy to "naturalize". There are actually hundreds of species of flowering bulbs, and the color themes and coordinating bloom times can be great fun to plan.
Planting in existing perennial beds will make digging easier and allow the foliage of the perennials to hide the fading foliage after the bulbs bloom. This is important, as the plant must store energy in the bulb after bloom or it won't bloom the next year. Leave the foliage until it is yellow and floppy, even if you have to bend it down to tuck it under hostas or hardy geraniums.
Crocus, wood anemone, muscari, scilla and snowdrops can be strewn and then planted right in the lawn. They will bloom before mowing begins, and their foliage stays low. Leave the lawn mowing for at least a month after these bulbs bloom, again, allowing the foliage to store energy for blooms next year. Cut the lawn a little higher than normal the first time or two if the bulb foliage is still green.
Because you plant in fall, once the night temperatures begin to cool, you have to remember the locations of any bulbs already in place, as most have no visible foliage in the fall. The star bulb performer for fall display is the colchicum, or fall crocus. These vivid fuchsia lovelies actually put up sizable foliage in the spring, which then fades away as most other bulb foliage is fading. These leaves are large and thick, so the browning mass of plant material in late spring or early summer can resemble a compost pile until you trim and rake them out of your perennials. Come September, suddenly there are masses of beautiful flowers which seem to leap to life in just a couple of days. If nights are cool, they last 10-14 days before fading. These beauties are an investment, often $10 per bulb, so look for a friend who has some that can be dug and divided after the foliage fades or after the flowers are done for the year.
Most bulbs benefit from a granular fertilizer application after flowering. Never plant bulbs in wet or heavy clay soil. Know that tulips especially are candy to not only browsers, but digging rodents as well. Experiment with a few varieties of the less expensive and commonly available bulbs, and enjoy seeing what they add to your garden display.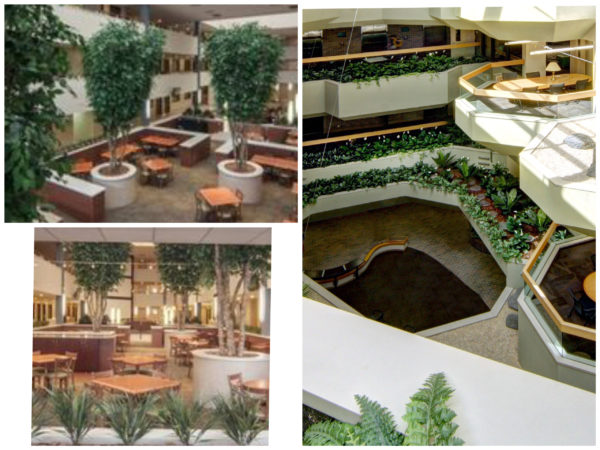 Why Faux Plants?
Live plants in the home are extremely popular again, with thousands of new plant parents across Michigan adding to their collections and seeking unique varieties and forms. Green walls and atria are also experiencing a great increase in commercial and institutional spaces. Unfortunately, sometimes specifying live plants simply doesn't make sense.
In areas of extreme environmental challenge such as lack of light, extreme heat or cold in airlocks, and lack of safe access such as high on walls or hanging from structural elements which are not safely accessible for live plant care, a faux selection may be a good choice.
When a live plant is not possible in the proportion that fits a space – a Fiddle Leaf Fig that is only 10" wide at the pot level, but needs to be 8' tall at installation, for instance, faux is the only option. Need 50 matching vines all 28" long, but 30" of length will begin to cover the signage? Faux will likely be the correct choice.
Sometimes the ongoing budget for care of living plants is simply too small to allow for the proper care, replacements when needed, or rotation of living color desired. Faux materials do need cleaning and reshaping over time. If a seasonal rotation of color is desired, both time and storage space must be planed, but the ongoing care of faux is less expensive, as usually quarterly color rotations and twice -yearly cleaning is a good schedule in office environments. When it comes to the purchase budget, faux plants are typically more expensive to purchase, although smaller decorative pots may be used, which may offset some of the price difference.
Faux or silk plants make sense when unusual colors of foliage or flowers are desired but not easily acquired in live plants. Brightly colored foliage in live plants generally requires high light to maintain, but silks hold their color for years and actually last longest in indirect light. Many silks come in a UV-resistant and Flame retardant options.
When selecting plants for cabins, lake houses and other seasonal homes, faux may be a good choice as care is not required.
We can use faux for events, particularly succulent arrangements for tables which can be reconfigured to incorporate specific color or height preferences.
Our most common use of faux plants is careful inclusion within a live plant design. Perhaps there is one conference room that is seldom used – a faux tree and perhaps a preserved moss wall will be the right choice. That high ledge in a two-story entry of a home? Faux will add a touch of green and absorb some of the sound bounce in the large space, without the need to climb an extension ladder frequently to water and prune. That rear entrance, likely for staff, where the light is lower and the airlock is the only space available- sometimes a wall sconce or two with a nice blend of vining plants will add a warm welcome that won't succumb to cold and dark conditions.
Do you need help finding the right faux piece for your needs? Want to avoid shipping something in that would be difficult to exchange? Reach out to Carol or Kathy for assistance.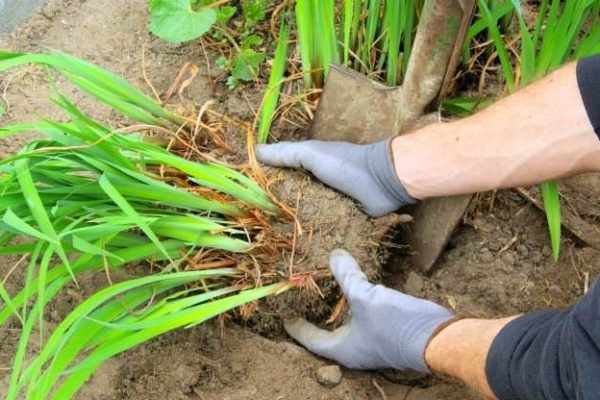 Dividing Perennials
Fall is a great time to divide and transplant perennials. In our northern climate September to mid-October is best, so the roots have an opportunity to establish before the ground freezes.
Signs that your perennials need to be divided may include; centers of the plants have died out; blooms are smaller and not as many; the plant is an aggressive spreader and needs to be reduced in size to prevent a garden takeover; or you may simply want additional plants.
Be sure to divide when the plant is not flowering, so it can focus its energy on regenerating root and leaf tissue. My general rule of thumb is; if it flowers in spring, divide in fall, and vise versa. I find it is easier to manage the dividing of tall plants, if I cut the foliage down by half.
A good sharp spade helps divide large plants. It is best if a trench is dug around the clump, cleanly severing any roots. Next slice straight down the center of the clump, halving or quartering the clump before undercutting and lifting it from the ground.  Select only the healthiest sections to replant.
Give the new plants plenty of room in the new planting hole. It is important to dig the hole twice as wide as the rootball. Shoving roots in an undersized hole will cause the roots to grow slower and less vigorously than they could. Replenish the soil with quality organic matter at the time of planting.
Dividing plants can rejuvenate even the oldest resident perennials in the garden. There will be more space for roots to grow and absorb nutrients and water. Air flow will be increase, reducing plant diseases and allowing more vigorous blooming.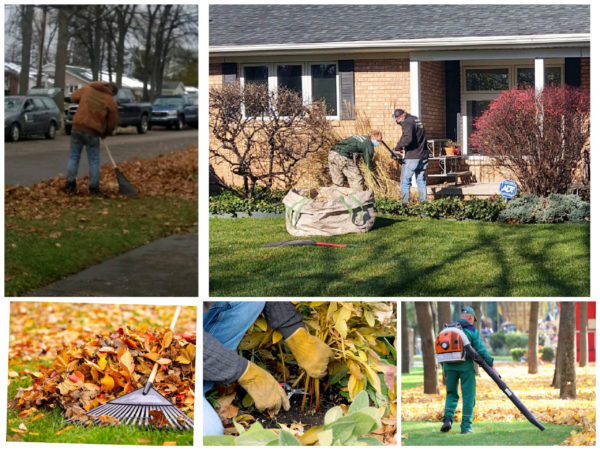 As the last of the perennials finish their bloom, it's time to prepare your garden beds for the winter. A thorough fall clean-up can set you up for success the following spring. Cut back perennials and remove the debris, weeds, and fallen leaves. Now is the time to apply preemergent to prevent  weeds that germinate in the fall, but don't show themselves until spring.  Add a nice layer of mulch 2-3" thick to help regulate soil temperatures, prevent plants from heaving in the soil due to freezing and thawing, and to suppress weeds in the spring.   If you are interested in a fall clean-up but don't have the time or desire, The Plant Professionals can help. Call or email today for an estimate.