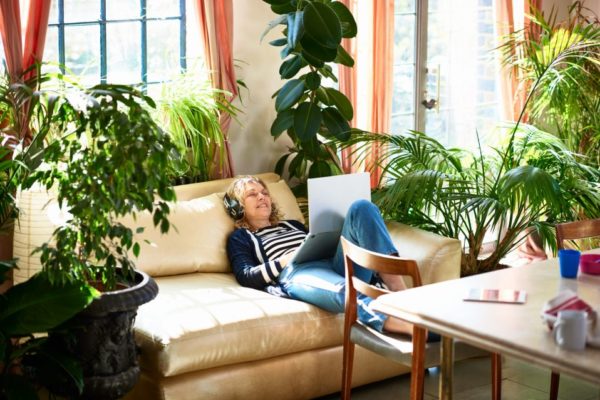 Every person has been impacted by the COVID-19 pandemic. For many of us, we are spending significantly more time at our homes. Those with exterior greenspaces have had more time to devote to gardening, but fall brings a reduction and eventual end to most outdoor gardening activities till March or so.

As we spend more time indoors and the season of open windows ends, air quality is a concern–especially now. Indoor air is typically as much as 30 times more polluted than air outside. Adding more interior plants is a great way to improve air quality, add more oxygen, and reduce airborne toxins.

NASA studies show that all species naturally capture and remove toxins as they take in CO2 and emit oxygen molecules. Some pollutants plants are proven to filter out include benzene, formaldehyde and ozone. What fascinates me is that the plant does this mostly through the root system and its relationship with microbes in the soil. Grouping plants at windows, especially in close proximity to one another, allows them to maintain a little more humidity. Remember to rotate and prune as needed to keep your green friends from becoming hopelessly entwined.

To assist your plants in helping keep you healthy, avoid using artificially-fragranced cleaners, laundry products and air "fresheners". These appeal to our desire that our spaces always smell fresh to visitors, but many of these products are a major part of the indoor pollution we want to remove from the air. 

Consider a bundle of lavender, some dried mint in a bowl, a bouquet of fresh flowers, evergreen branches, or a balsam sachet if you really need to add a fragrance to a space. Use natural plant products rather than manufactured items when possible, to work with rather than against your plants.

As you add plants or bring in the beauties that summered outdoors, good natural light is the most important factor for a successful overwintering indoors. The more healthy plants in your space, the more those plants will improve the air quality for you.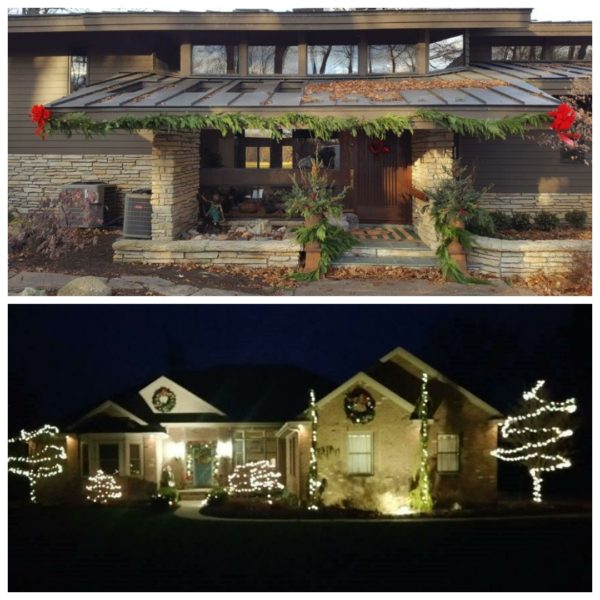 As we prepare to celebrate the winter Holidays- Christmas, Kwanzaa, Hanukkah and Winter Solstice, many families add festive greenery and decor to the home.  This is going to be an unusual holiday season, as it has proven to be a most unusual year. For many families, winter holiday gatherings may be smaller, and festivities lower-key, with the impact of COVID-19 and some interstate travel restrictions. We may be longing for people and places beyond our reach.
This may be a season to spend some extra time selecting items of meaning to add to our homes. Is this the year for a socially distanced family expedition to a Christmas tree farm? Remember that a tree often seems taller when you bring it indoors, so know the ceiling height of the intended room before you go.
Maybe a fresh wreath is all the bounty you have room for in your home or apartment. Maybe this year you skip the tree for other reasons and buy a few wreaths so that those near neighbors who you know are staying inside during the pandemic can enjoy your gift and goodwill.
Select fresh wreaths without falling needles, to reduce the fire hazard and the mess. When you cut your own tree or watch fresh wreaths being made on a peddle machine, you know your item is really fresh. Keep that tree hydrated and mist your wreath occasionally if you display it indoors.
If you have an artificial wreath that is still holding its needles well, perhaps add a few faux berries and a bow in a new color, to add some brightness and cheer.
You might choose simply to purchase a bundle or two of mixed cut evergreens to arrange in a galvanized bucket with a bow for the front porch, or in a sleek and bright vase for the table. Maybe this is the year that family members work together to weave a fresh or faux greens garland for a mantle or stair railing.
 Anything you choose to experiment with can be accented with some added cones, berries, balls, bells, stars, Santa's or gnomes. If you want a little help, The Plant Professionals can assist in helping you choose fresh or artificial wreaths, garlands or trees, decorated to your preference.  Your home, your style. Enjoy the season and allow yourself to relax into some time to enjoy your home and your family.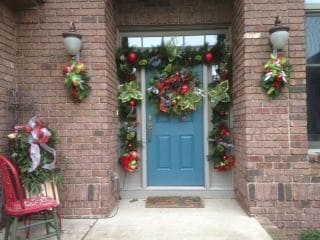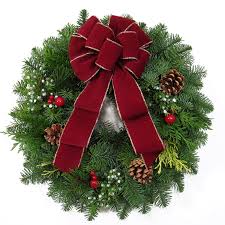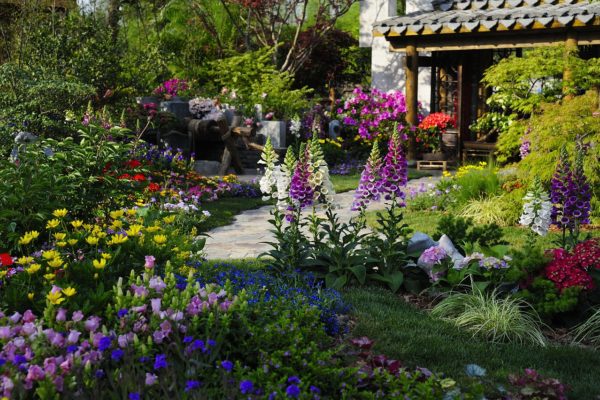 As an avid gardener at home and a professional landscape designer at work, I am often seeking the newest design trends, and plant material. For the last several years, I have become disappointed in the selection and quality of garden shows on television. Most shows depict unrealistic budgets, and overdesigned gardens that take a lot of maintenance to keep looking beautiful season to season. Many are filmed in an area of the country that is a completely different climate zone than in Mid-Michigan.
It seems that many garden shows have shifted focus to furniture and accessories moreso  than the the actual gardens.  While I would love to include outdoor furniture, pillows, dishes, and art pieces in my designs, the reality is, most clients are calling on us to provide and install only the plants and hardscapes. Our customers like to accessorize their new spaces themselves. I understand why so many garden shows and influencers focus on the accessories, most are sponsored and are making money from the promotions.
I do love the show Garden Envy on Bravo. This show just finished its second season, and not only has it featured great garden designs and installation techniques, but the three main hosts are amusing to watch as they interact with each other and the homeowners. I find that the budgets are realistic for the projects they are installing. Since it is filmed in and around New York state, a vast majority of the plants they use will do well here in Michigan.
I have also discovered some great resources on Facebook and YouTube. My current favorite is Garden Answer. Laura LeBoutillier, the creator of Garden Answer, lives in Eastern Oregon and grew up working in her parents garden center. Laura offers great tips, advice, and videos on all things related to gardening. She has shared information on subjects ranging from decorating with dried flowers, irrigating container gardens, creating a tabletop fairy garden, planting different bulbs in her garden, or a feature on her favorite dahlia variety in her garden.  I find most of the information Laura shares is relevant in most parts of the country.
Facebook also has many gardening pages that have been created for discussions, advice, tips and brags. There are many pages focused on gardening here in Michigan, as well as pages that are open to gardeners across the globe.  Search the word garden on Facebook and it will provide many, many options. I personally like Michigan Gardeners and the Michigan Gardening, Garden Soul, and Michigan Plant Swap pages.
Two digital newsletters that I particularly enjoy when I see them in my email box are Linda at Garden Design, and Dirt Simple by Deborah Silver. Linda at Garden Design is a free newsletter published by Garden Design Magazine. The articles cover a wide variety of great topics and includes design ideas, photos, and features how-to projects. Dirt Simple is a blog that features landscape design and garden observations by Deborah Silver. Deborah is the owner of Detroit Garden Works, a retail store is devoted to fine and unusual garden ornaments and specialty plants. She also owns Deborah Silver and Co Inc. design firm.  Deborah also opened the Branch Studio, a subsidiary of the landscape company which designs and manufactures garden ornaments in a variety of media. Visiting the retail store was on my bucket list for last summer, but has been postponed due to COVID-19. I am determined to make it there next summer!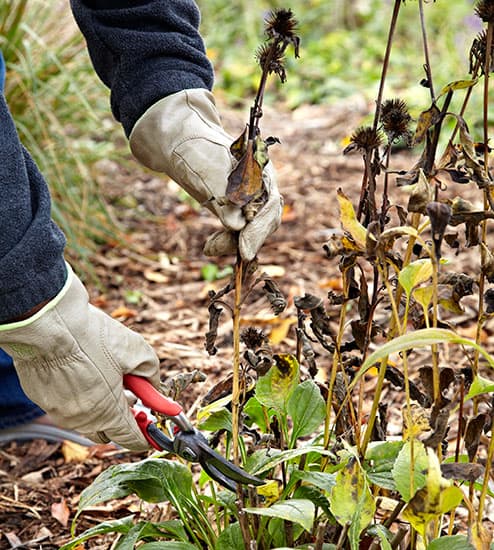 As the last of the perennials finish their bloom, it's time to prepare your garden beds for the winter. A thorough fall clean-up can set you up for success the following spring. Cut back perennials and remove the debris, weeds, and fallen leaves. Now is the time to apply preemergent to prevent  weeds that germinate in the fall, but don't show themselves until spring.  Add a nice layer of mulch 2-3" thick to help regulate soil temperatures, prevent plants from heaving in the soil due to freezing and thawing, and to suppress weeds in the spring.   
If you are interested in a fall clean-up but don't have the time or desire, The Plant Professionals can help. Call or email today for an estimate.