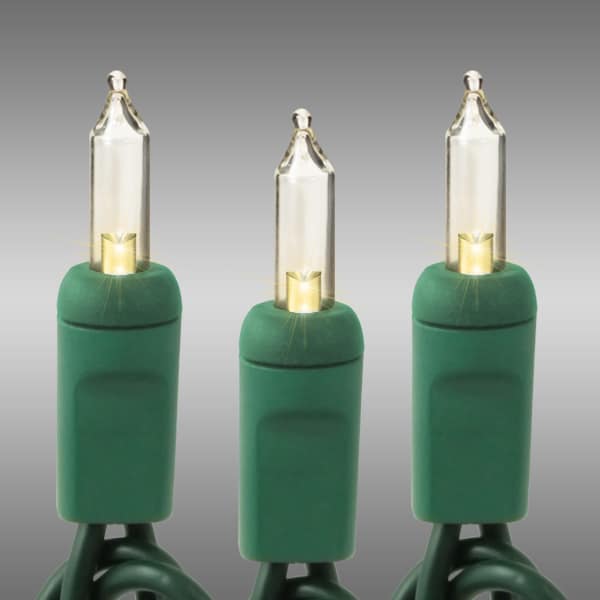 Lights On!
When Light Emitting Diode strings first became available for commercial Christmas décor, I was a skeptic. The lights were too bright, the glow was blue rather than a warm white and the wiring and diodes were heavy and clunky. Now, the color is a soothing warm white, the wiring is similar in weight to incandescent strings, and many diodes come with "covers" that make it hard to see the difference between diodes and bulbs. A close examination will show that diode covers are plastic, not glass, and you can see whether there is a filament (bulb) or a snubbed-off little diode (LED).  The photo shown is a warm white diode.
The reason for the migration from light bulbs to LED is clear. LEDs take far less power, and so they cost much less to run, often 80-90% less. LEDs do not generate heat, so the risk of fire is far less. The strings and diodes last far longer, often 2-3 times the expected lifespan of incandescent. From a decorator's perspective, an additional benefit is the icing on the cake. With incandescent lighting, only 3-4 strings can be safely run end to end or from one plug, while LED strings can be combined in much longer runs– as many as 20 or more. This gives us so much more flexibility. We still recommend using timers both for energy savings and convenience.
When we began decorating seriously 25 or so years ago, often 20-30% of our time was spent lighting items, repairing lights, changing bulbs, or stripping and restringing lights. Now lighting repairs are a novelty, and a commercial quality LED- lit wreath or garland can be expected to light trouble free for a decade easily. We have many choices of items, with many more tree profiles and heights coming in LED prelit. In the past, commercial decorators would insist upon doing their own lighting of trees and wreaths to get enough light density, but the brightness of LEDs has largely removed that concern.
We used to recommend redecorating a tree every three years, knowing that at three years of use, the incandescent lights would be aging out and becoming unreliable. Now, décor change is based on client taste or changes due to room redecoration instead.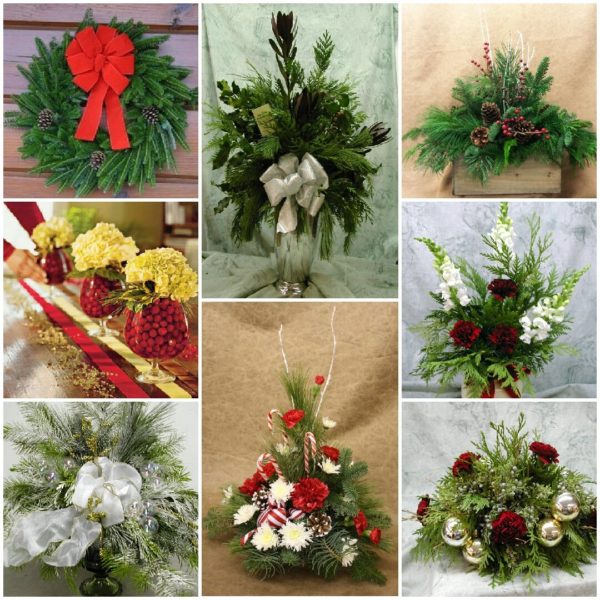 Fresh Michigan evergreens are a wonderful way to bring holiday cheer into your home, or to send as a gift. Beautiful and fragrant floral arrangements, door wreaths or simple arrangements with greens, berries and branches hold their beauty for many weeks when kept cool and hydrated.
Call and ask to speak with a designer to explore all the colors of ribbons, berries and décor to choose from. All of these items are available for delivery in the mid-Michigan area.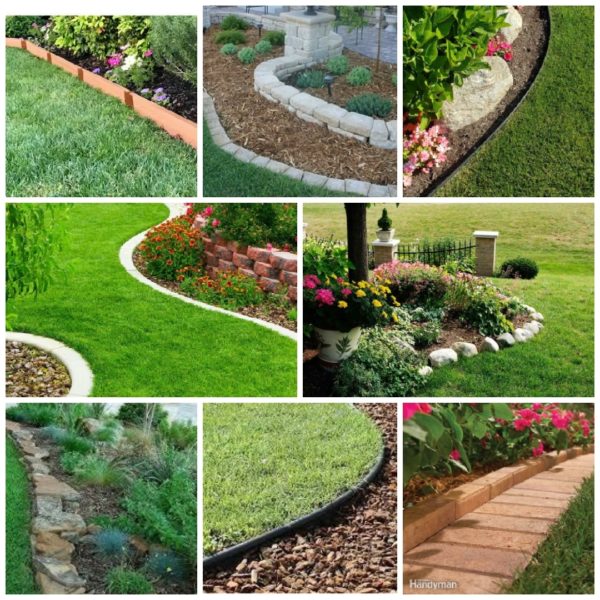 Garden edging sets a boundary between the lawn and the garden bed, and creates a well-defined line for your eye to follow through the landscape. Edging also helps deter grass from growing into the beds, and keeps the mulch contained in the beds.
There are many different materials used to create edging– wood, metal, plastic, stone, brick, or concrete are the most popular. Wood edging is usually used for creating raised vegetable gardens. I enjoy the rustic look of wood, but know that the wood will usually need to be replaced every 5-10 years. If using wood for edging, it is important to know what the wood has been treated with. Do not use standard "green" treated, ground contact lumber. Toxins in the wood can leach into the soil, contaminate the vegetable or herb garden, and can poison both plants and people . If the look of wood is what is desired, there are composite and vinyl boards that make a good alternative.
Among the metals, aluminum is my personal favorite to use, and what I suggest most often to our clients. Metal bends easily into smooth graceful curves.  When using the bronze color, this edging almost disappears against the grass. Metal is very durable and can handle ride-on mowers and light vehicle traffic if installed properly. If improperly installed, it can damage lawn equipment. This type of edging should only rise above the edge of the grass by half an inch. This allows a lawn mower to glide past easily, with the mower deck clearing the edging by a few inches.  
Plastic edging can seem budget-friendly initially, but it does not hold up very well over time. The top of the edge becomes brittle from ultraviolet light from the sun, and cold temperatures, and also tends to be hit with mowers, causing the edging to split and crack. Plastic edging can often heave in the winter, needing to be re-installed into the ground come spring. There are options of pound-in-place segments, or a long 20' roll that is installed into a trench.
  
Small 8-16" boulders or stacked stone is a very classic looking choice. Stone holds up very well over time, and is available in an array of shapes, sizes, and colors. Installation can be a little more time-consuming as it takes time to fit the stone together in a pleasing way. A string trimmer should be used to keep the grass tidy along the stone edge.
Brick is another classic looking edging, but one we don't tend to recommend for our area of Michigan. Brick can also be very time-consuming to install properly. The heaving soil caused by our climate's freeze-thaw cycle can easily move the bricks out of place. Expanding of clay soils during the rainy season, the battering from lawn equipment, and aggressive roots can also cause dislocation and chipping. Proper site preparation and installation are very important with this type of edging.
Concrete can either be poured in-place or extruded. Concrete comes with a high cost in labor and materials, but is very long-lasting. Both concrete options can be tinted in earth tones, which helps them blend into the landscape. The poured in-place method requires forms to be built which can take some time, but can easily be widened to 12-14", turning the edging into a narrow pathway around the garden. This can be a great option for families with kids on bikes and skates. Extruded concrete does not require forms to be built. A machine turns wet concrete into a compact extrusion as it moves down the prepared edge line, leaving behind a compacted wet ribbon of concrete.
The kind of edging you choose is important as it establish the way your landscape looks, and should complement your lifestyle. Garden edging should be attractive to look at, or blend in so easily that all you notice is the crispness of the transition from lawn to garden.
The Long-Awaited Greenhouse
Al and Kathy have been dreaming about adding a greenhouse for years. We knew it would have many benefits for us, but so often we were too busy to work on this, or were focusing time and resources on other goals for the business.  Last year we became aware of another business owner who had begun downsizing her extensive greenhouse range in the Fowlerville area. We purchased the metal frame for a 20' by 100' hoop house from her, and began to build a wooden wall system to raise the hoop house up for more headroom and usable space. We also built a small building adjoining the greenhouse to hold a wood- fired furnace, made from a long unused standing  oil tank that was given to us by a friend. This year one of our vendors tore down a retail greenhouse section to build new houses, and we acquired a nice  used gas- fired heater for our backup system. Most of the wood used in construction was reclaimed deck boards from client projects or from friends .The wood we will use for heating is firewood from trees removed for landscape clients.
Covid19 put the project on hold for the summer months, as we focused on caring for our landscape and outdoor color clients as well as interiorscape clients. As fall approached, we refocused on how useful this space would be for us over the winter. The two- layer poly top holds a layer of insulating air, and the sides will roll up for ventilation automatically when days are hot next summer.  The computerized climate control will regulate the gas fired heater and power vents , as well as the roll up side vents.
The actual construction was almost entirely by our own team, as we put our skills and experience to work. It took many hands over many months, but it was worthwhile. Special thanks to our friend Case from BFG supply in Grand Rapids for technical assistance.
This warm and bright space will allow us to bring overgrown tropical plants in to prune and regrow them. It will let us buy cuttings of plant species we use a lot of and finish one or two crops of tropicals for interiors each year if needed. We will be able to buy feature plants for exterior color plantings much earlier in spring and hold them until safe to use outdoors.
We will have the perfect place to hold our ferns and hanging baskets , and eventually we hope to hold some of our smaller Make and Take events in this space, once the conditions permit. There is nothing quite like the bright warmth of a Michigan greenhouse on a cold winter day to lift the spirits. Thanks for the wonderful support we have experienced as we have worked on creating this new space.
ARTICLE TITLE
Article Content