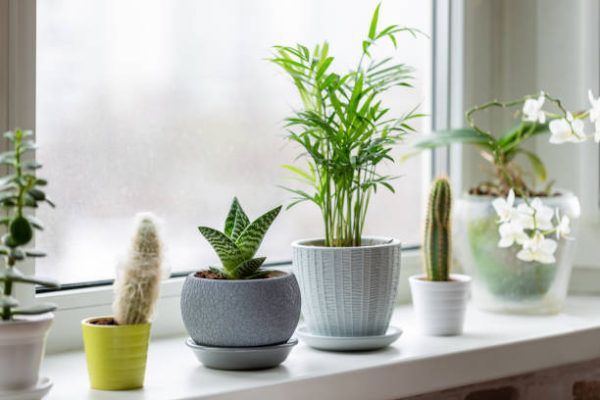 Plants in Design
There has been much increased interest in houseplants these last few years, with two main camps of devotees. Some people have quickly become plant collectors, adding a large number of small unique plants to their space.
Succulents, ferns, African violets and Rex begonias are all popular, and open the door for collections containing a few plants or hundreds, often in pot sizes of 3-6" diameter. 
Windowsills, tables, shelving units and dedicated plant growth systems may be filled with a collector's prize finds. Think about the time and space you are willing to devote and the potential impact of interactions of pets or kids with your plant collection. Use local resources to acquire at least the first few plants, so that you can get care tips and help with trouble-shooting should you need it.
For some, finding the right species and size of plants to complement their furnishings and thrive in the space available is the approach. For these plant lovers, the plants may range widely in size, or may include a variety of species. Each plant is chosen to thrive in the space it is placed and compliment the furnishings and colors in the room.
Whatever your inclination, choose healthy, insect free plants in quality potting soil. Research what a species requires before adding a large specimen to your collection. Before beginning a collection, learn more about what care will be required.  If you travel a lot but have great light, succulents might be ideal. If you have a skylight in a humid bathroom, perhaps some ferns would be a good addition. Love color? Rex Begonias come in hundreds of foliage patterns as well as offering periods of bloom. They do well in indirect natural light and do like some humidity. Whatever approach you take, there are many social media groups that can be a source of information and even starts for new plants for the collector.
                                                                                              
We are privileged to work for a wide variety of clients who use green plants and floral displays for special events. Often, we provide plants around a banquet room, and florals for tables. Sometimes we decorate a church or other venue for weddings. One of the relationships we are most proud of is our long history working with Michigan State University, particularly decorating commencement stages. Because of the size of the University and the complexity of their needs, planning starts months in advance. Commencement dates are set two years or more ahead. Our client is the Provost's office, but our communication is with the landscape designer in charge of the event, and with the stage managers at the various venues where ceremonies are held.
We have learned what species give the best show at a distance while looking attractive up- close. We understand the importance of avoiding highly fragrant flowers or those that carry a lot of pollen, to be sure speakers and guests are not burdened by allergic reactions. We embrace the importance of arriving on time for both installation and takedown, often bringing teams of a half dozen skilled workers to be sure we are speedy. It is not unusual at fall commencement to be clearing plants from one end of the Breslin center stage while the stage itself is already being disassembled at the other end, soon to be followed by the person driving the floor cleaning machine and then the crew laying the basketball floor and locking it into place. A well -coordinated team of people makes this possible. We work with our foliage growers in Florida and flowering plant suppliers in West Michigan to supply large numbers of matching items at the right stage of maturity and color. Typically, we decorate three major stages and sometimes more. We also work with large departments on campus who hold their own unique ceremonies a week after the main MSU events, as well as working with Lansing Community College, Olivet College and sometimes even the University of Michigan, as well as several local high schools. The volume of plants we source for the commencement season means we have depth of stock for summer weddings, galas and conferences in April, May and June and all manner of Luaus, graduation parties and patio parties. It is a joy to help make the commencement experience beautiful for graduates and their families.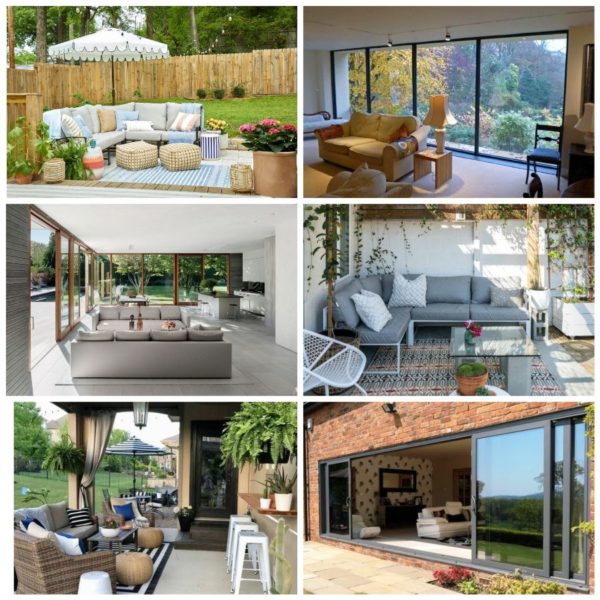 An increasingly popular concept among interior designers is to blur the lines between the inside and the outdoors. In addition to lowering blood pressure and reducing stress, spending time outdoors can improve mood and boost energy levels. Blending your spaces may be good for your health!
Many people want to feel more connected to nature. Backyard patios, decks, fire-pits, and cozy seating areas have become increasingly essential to homeowners. Designers and architects are focusing on how to create seamless links from the indoors to the outside by bridging the gap between the two.
Windows are being replaced with large sliding glass doors. Walls are being replaced with floor-to-ceiling windows.  Designers are encouraging homeowners to look for products that are suitable for harsh weather conditions, yet are stylish enough to look good as either an indoor or outdoor feature. These days you can find outdoor TV's, rugs, artwork, and furniture that can be located in either space, creating an invisible transition between the two.
Outdoor amenities such as a kitchen, covered porches, pergolas, or even a linear fire-pit on the deck, can be a focal point outside, while also enjoyed from the inside, making the home feel more functional and desirable. Creating open transitions can improve the view and access to indoors and out, while making the home feel bigger.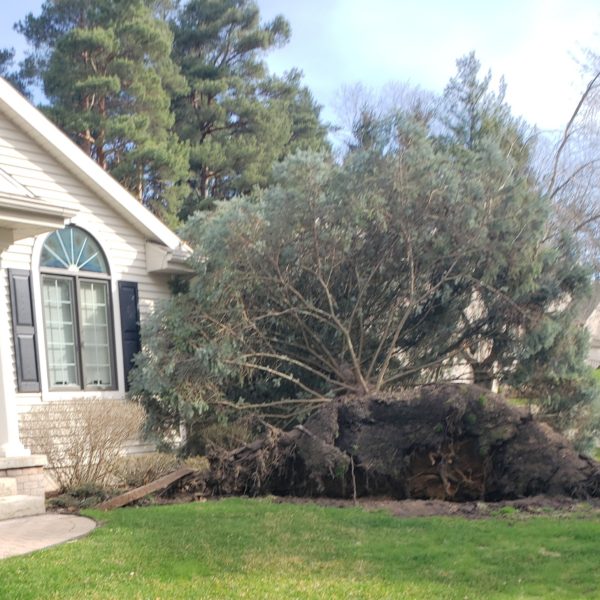 That dead tree has finally come down in the high winds. Now what?  First, be sure it is safe to approach. Wait till daylight if possible. Is the tree on the ground, is it hung up in trees or shrubs around it, or has it come down on a house, vehicle, power pole or other structure?
A tree that is hung up or has come down on a structure or vehicle is a potentially risky situation. Call the utility company if wires have been pulled taut or pulled lose. Remember that if the electrical service drop is knocked off or damaged, your electrician will need to restore the service before the utility company can reconnect you, but the utility should turn off your service if a tree has come through the roof, to help prevent a fire or electrical shock hazard in or on the home.
Call your homeowners and auto insurance carriers as appropriate. Get professional advice, sending  photos of the scene taken from a safe distance. Remember that until each trunk or major limb of a tree is fully down on the ground, there is a risk of rolling, dropping, shifting or movement that could injure or kill.
Only take on the clearing and clean up if you are experienced, have the right tools, and have appropriate boots and workwear for the task. Be sure you understand the physics of the situation and have a plan for safely dissembling the tree and then removing the firewood, limbs and debris. The tree may have pierced the ground with limbs and you will need to extract those hazards and fill any indentations or holes, and clean all debris before the lawn can be mowed again. Don't work alone, have your cell phone handy in case of emergency, and be strategic about using available equipment to minimize lifting and climbing.
 If the task is too big for you, or you do not have tree cutting experience, ask your insurance agent for a referral for a tree removal company. When getting a quote, let the contractor know if you want to keep any firewood, if you want them to chip limbs for your use, or if you simply want the least expensive or most complete option.
If you don't have structural or auto damage and prefer not to make an insurance claim, check with a landscaping company for their availability, or for a referral. A landscaper likely can safely handle completely downed trees, but a tree service with bucket truck will be needed for a tree on the roof or hung up in surrounding trees. Bear in mind that wind storms may take down hundreds of trees in one event, so be prepared with photos to make your case for the urgency of your situation.