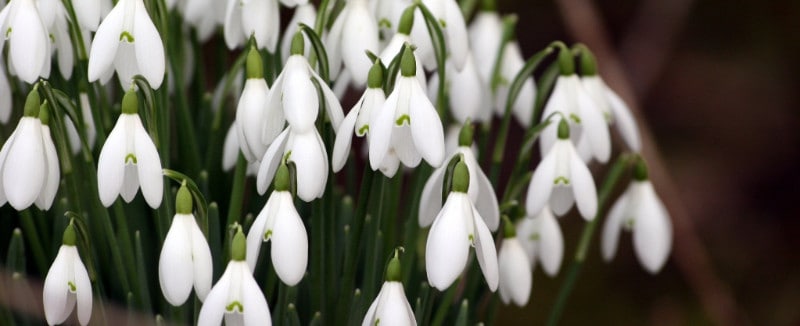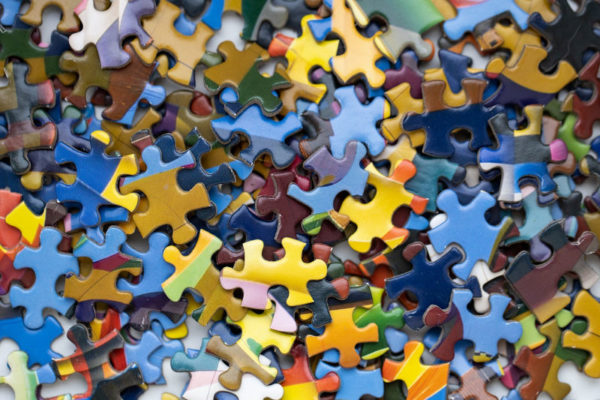 It is still exciting when one of our clients shares a challenge and asks us to help solve the puzzle. Many of our landscape challenges are solving drainage issues and then redesigning aspects of the landscape to fit new land contours. Sometimes the loss of a major tree, a solid fence installation, or a building addition creates major change in the micro-climate. For clients, Alexa designs a new approach to the space by moving existing plants to the proper lighting exposure and adding new ones.
In the interiorscape, we often are challenged to use plants for screening or to direct traffic flow, create social distance in seating areas, or keep flexible seating units from being placed too closely together. Our job is to know each plant species, what it requires, how quickly it grows, how it responds to pruning, and whether it will be the right plant in the short and long-term.
Green walls offer a different additional set of challenges, as lighting must nearly always be added for plant health and beauty of the installation.
  Plumbing and drainage are important considerations, as well as safe access for regular care to the full height of the feature wall. Often a scissor lift will be needed for both installation and service of the planting. Sometimes that access isn't available, and sometimes the budget for special lighting and ongoing care is not available. In these cases, a preserved moss wall installation often becomes the design solution that best suits the needs of the client.
For outdoor color plantings, the challenge is in selecting plants to set the mood and feeling desired for the planting, while using planter size, soil quality and amendments, and a service schedule and skill to keep the plantings lush through the four seasons.
 Sometimes a very tropical feel is the goal, perhaps an informal wildflower look is desired, sometimes a particular color palette is the primary focus.
Occasionally herbs or vegetables find their way into the planters, especially if the patio is near the kitchen or dining area.
Holiday decorating can offer challenges as simple as determining how tall a tree a lobby or foyer will accommodate, and of course we always have to know what entry point allows us to bring in our products as fully assembled as possible. We have learned not to design with an item that won't fit through the doorway!
The same sort of physics and engineering considerations come into play when bringing large custom artificial trees into a hotel lobby or a living room. These items don't have the flexibility of live plants, so the planning and measuring gets intense, and sometimes decisions are made based on fractions of an inch. It is very satisfying when a large and heavy piece comes to rest in the proper position and neither artificial plant nor people were bruised.
Feel free to bring us your design challenges. We are happy to work with you to create solutions that last.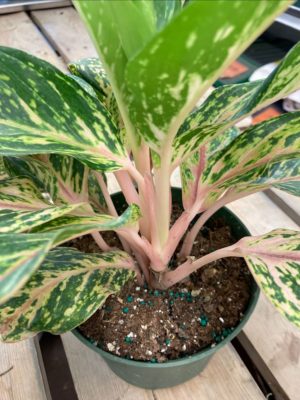 Feeding Frenzy
It has become a common occurrence. We receive a call, email or social media post about a personal indoor plant in a home or office setting that is declining. Typically, the plant is losing some leaves, has a few yellowing or brown leaves, has brown leaf tips or looks pale. Unfortunately, as often as not, the person with the struggling plant has already added fertilizer to the soil, and is only asking an expert after that tactic was not successful in immediately improving the plant's appearance.
Plants almost never have an urgent need for added nutrition, and adding fertilizer when a plant is stressed is almost never wise.
A new tropical plant, fresh from the greenhouse or retail store, typically has a lot of fertilizer in the soil, often in the form of a slow-release pellets or balls distributed in layers in the soil. Not only does the plant have plenty of food already, it may actually have far too much food for the lighting it is now experiencing in your Michigan location.
 We actually remove a layer of soil from most tropical plants as part of our process in preparing plants to succeed in artificial light indoors. Then, we replace the fertilizer laden soil with pasteurized soil that does not contain rich fertilizer. If your plant has been purchased in the last six months, slide it out of the planter and check for signs of extra fertilizer. Remove the pellets or balls you see, and compost or discard them. Be sure pets and people can't access and consume them. Be sure the soil you add back is clean, new packaged pasteurized soil intended for indoor plants.
So, what if the plant is not new? Perhaps the plant is in its second or third season.  Crusty layers of residue can build up around the pot rim, soluble salts from the fertilizers and other minerals in the soil. These salts actually pull moisture from the soil and bind it up, unavailable to plant roots. If the plant looks stable and the season is fall or winter, just scrape off some of the top half-inch of soil and replace with good soil.
If the season is spring or summer, it may be appropriate to repot the plant, replacing about 1/3 to ½ of the existing soil, and add fresh clean soil. If the plant roots are circled and tight, with little soil visible around the well-formed root ball, loosen the roots and pot it up to the next larger size. A 4'" root ball goes up to a 6", 6" to 8" pot, etc. Be sure the soil is settled well into any voids.  Water as needed and be sure the plant isn't left standing in water.
Sometimes the process of checking the roots shows you that roots have rotted away, and that leaf loss or wilt is caused because there are not viable roots to get the moisture from the soil into the vasculature of the plant. Fertilization won't help that a bit, but this situation may be an opportunity to take a cutting or cuttings of the top of the plant and root in a glass of clean water. This starts the plant over in a small pot of clean soil. A worthwhile tactic to attempt before discarding a favorite species.
A newly repotted plant in good soil won't need a fertilizer added in year one. After that first year a spring fertilization is usually appropriate. A light pruning, potting up of plants whose roots have become too crowded, and then fertilization of plants not repotted can be a great March ritual for your Michigan houseplants. Use a quality fertilizer formulated for houseplants. Follow instructions, don't give any extra doses, and allow your plants to grow slowly and form quality foliage by keeping them clean. Always -place them in the light recommended for the species, and turn them, so they grow upright and even.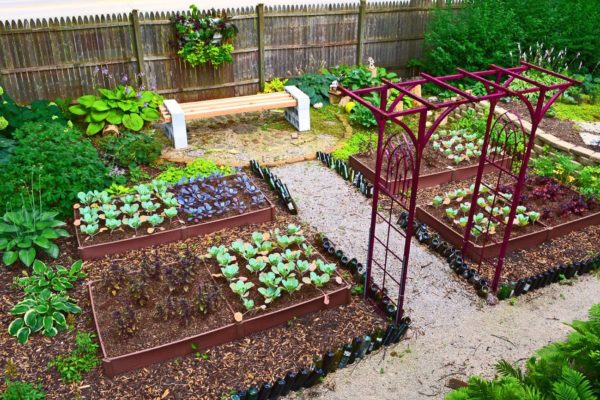 Growing Your Own Food
More and more people have turned to vegetable gardening and growing their own food in response to the pandemic. It is estimated that one in four Americans began growing their own food for the for the first time, according to a Packaged Facts National Online Consumer Survey.
These new gardeners worry about the future, including food shortages, hunger, and the inability to get to the grocery store. Over lockdown, people quickly bought seeds and seedlings. Big box stores sold out of virtually all vegetable seedlings, and seed packets, forcing wholesale growers to borrow from their own commercial supplies to meet demand.
The grow-your-own movement has also continued to expand as we have become more aware of how far a food item is transported from producer to consumer. Growing our own produce can decrease our carbon footprint. There are some companies that are trying to empower people to garden with grow-your-own kits. These kits provide customers with everything they need to grow food from seeds. These kits are playing an important role in feeding and educating the nation. Kits can include seeds or seedlings for herbs, fruit, vegetables, and starter mushrooms spoors, and can be found online or in many garden centers.
There are many advantages to growing your own food, whether you're just growing a single tomato plant, or have a backyard farm.  Gardening is a great way to involve children in a healthy activity. They learn where their food comes from, as well as how and why plants grow. When kids have a hand in growing, they are much more willing to eat produce, preparing them for a healthy future. My kids and the neighbor kids know that they are always welcome to raid my vegetable garden. Sometimes It seems like the fresh peas and tomatoes are never going to actually make it into my house.
Gardening provides fresh air and exercise. It also helps relieve stress, anxiety, and depression while boosting energy, pride, and an appreciation and positive connection to food. Food in its freshest form tastes so much better, and is also the most nutritious. The picking, shipping, and storage process contributes to loss of nutritional value. I remember eating fresh picked bananas, watermelon, and pineapple in Honduras while I was working on a mission trip. The fruit we get at the grocery store does not compare to fruit picked that very day. I think I lived on fresh fruit for the entire two weeks I was there.
Growing your own food can be cost effective, and also allows you to avoid the use of pesticides and synthetic fertilizers, eliminating the unknowns in how your food is grown.
Vegetable gardens do not need to be ugly and boring. It is beneficial to the vegetable plants to interplant them with flowering annuals, perennials, and herbs. These additions may attract beneficial insects and repel pests. I always plant marigolds in my vegetable gardens to prevent damage from rabbits snacking on my tender seedlings. I have had the opportunity to present a "destination" vegetable garden to a customer and can't wait create it this spring. The client wanted the garden to be a beautiful area for relaxation well as provide food for family and friends.
 We will be installing tall raised beds and panels to create a tunnel they can walk through, and vines such as beans and cucumbers will grow on. We are also adding large all-season containers to grow tomatoes and flowers together. A garden bench will complete this garden room.
When getting started, pick a spot that gets at least six hours of sunlight, but preferably 10-12 hours. Consider installing raised beds. This method allows you to control the soil and nutrient blend, while also warming soil faster for earlier preparation or planting in the spring.
If you do not have the space or light requirements at your home, a community garden is a great option. Click on the link below to find one near you.
https://www.communitygarden.org/
MSU Extension is a great source for more information on growing, harvesting and preserving your own produce. Right now, MSU Extension is offering a course, Smart Gardening with Vegetables 101. This is a self-paced online course, and right now it is discounted half off through March 15th. Click the link below for a course overview and registration info. 
https://www.canr.msu.edu/courses/smart-gardening-with-vegetables-101-1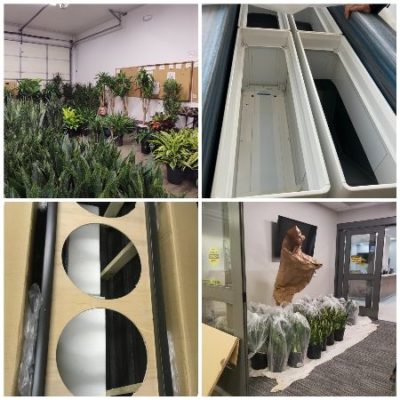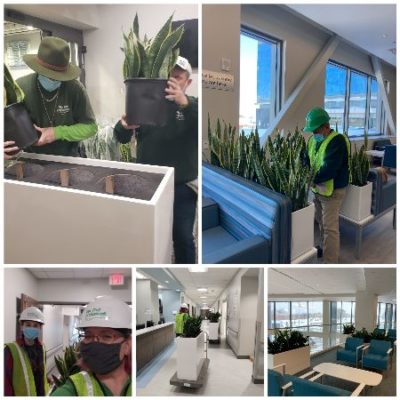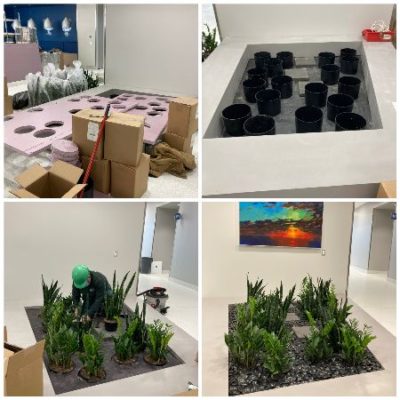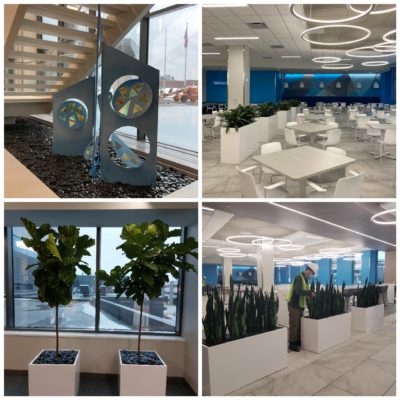 Design to Installation
The new McLaren Lansing Hospital has been a special project for us. We have been fortunate to serve McLaren for decades, first in Flint, and then Lansing, Grand Blanc, Port Huron and Petoskey. Health care facilities present unique challenges, simply because every element and process must be planned with health and safety of patients and staff in mind.
Several years ago, we developed a unique staging method that allows us to use large fiberglass planters with Luan interior shelves. The plants are inserted into the shelves, allowing us to use poly pebbles as the top dressing around the plants. This is easy to keep clean, minimizes the soil needed, and presents a beautiful appearance while minimizing weight.
We always enjoy collaborating with Julie Howe and Darcy Pace of Pace Howe Design, interior designers, who task us with helping them create the desired look. They identify areas where plantings are desired, as well as size and general feel to be created.
 We research crops in Florida nurseries that will be available when desired, match the plants with planters in appropriate sizes and shapes, provide color choices for selection by the design team, and price the products and installation needed.
 As in any large design and build project, skilled designers are important to achieve desired outcomes and coordinate with the general contractor and many involved subcontractors. Supply chain delays, rapidly rising prices for both products and shipping, and scheduling challenges requiring plan modification to keep the process moving forward are all factors. Fortunately, both Christman Construction and Barton Malow are adept at coordinating large and complex buildings from conception to completion. For us, this has been a two-year process, with design revisions along the way as needs changed or new needs were identified.
Once the final decisions were made, we quickly began securing crops and ordering the extensive fiberglass required. Two buildings would be completed within a month of each other, and with the large volume of plants going in, we staggered fiberglass and plant deliveries for two building installations. We had carpentry and plant preparation tasks for most of the planters going on.
Huge pallets of fiberglass filled our receiving dock, which were quickly inventoried and checked for finish quality. Carpentry began immediately, with the actual holes for insertions cut to fit the actual plants for each planter. The main hospital plantings went in over a two-week period, closely followed by the Outpatient Care Center over another two-week period. We were fortunate that the emergency room ambulance bays were complete but not yet in use, allowing us to pull inside a heated space to unload on those cold, windy January and February days. Plants were hurried inside, sleeves removed, staged, and pebbles added. Completed units were distributed according to the design plan. Four specialty Steelcase planters were staged on-site, as well as one large bed under the main staircase that we filled with pebbles to surround a beautiful sculpture, and one built-in bed in the café entrance.
Because the hospital was still an active construction site with several trades at work, hard hats and high – visibility vests were the order of the day once inside the buildings for each installation. This was a great experience for many of our newer installation staff, as we have the Cyclotron/FRIB and the Capitol Complex Heritage Hall projects upcoming this spring, and both of these are also active construction sites.