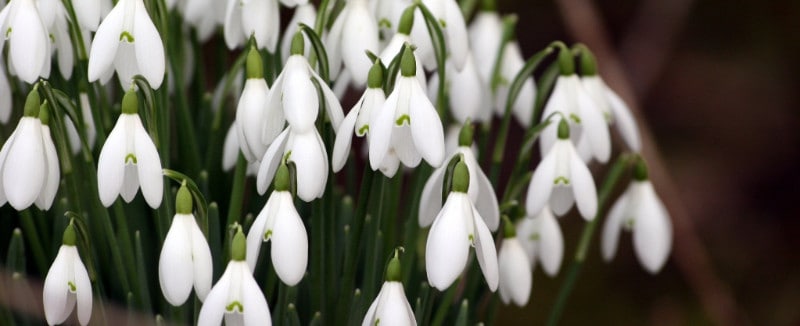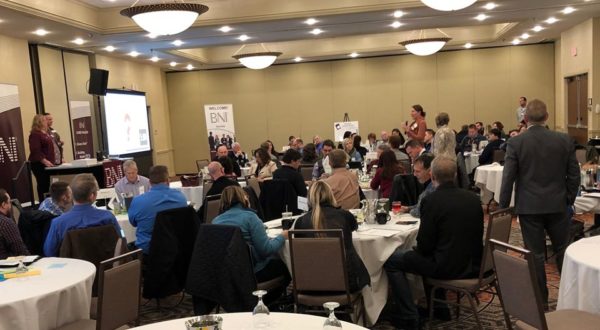 The Power of Collaboration
I have learned a great deal about growing a business during these last four decades. As a service business in horticulture, we are mindful that what we sell is not an essential in most people's lives. Even when we were quite small, we quickly saw the benefit of working with other businesses to grow our reach and knowledge. Chambers of Commerce, the Greater Lansing Convention and Visitors Bureau and several national horticultural associations are all a factor in our success.
One of the most effective organizations we work within is BNI, or Business Network International. This American-based company operates in several countries, serving about 254,000 members in almost 9,000 chapters. Michigan has dozens of chapters and a strong presence in the greater Lansing area.
Two things make BNI unique for me. One, only one member per business category is allowed in each chapter, so you are only meeting with referral partners, not competitors. Two, the level of education and training is excellent. There are great podcasts, weekly in-chapter training, and additional regional trainings that give access to an even larger pool of experts and potential collaborators. The more involved you are, the greater the opportunities.
BNI is excellent for a business in real estate, financial planning, tax preparation, law, insurance or marketing. If you are involved in any construction trade and want to develop relationships, BNI can help skilled tradespeople get the best jobs, and gain volume and profitability.  Be aware that you may have to hunt for a chapter with an opening, or help start a new chapter if you are in one of these fields, as the competition for open spots can be fierce.
We have found that not only is BNI great for our business, but we have developed some great vendor relationships through BNI. Having great resources to call upon for work we need performed, and providing referrals to help clients or staff, all help us grow our positive reputation and add value.
BNI chapters include many personal service businesses, such as hairdressers, health coaches, dental, chiropractic, massage, pet boarding, physical therapy, skin care, and wedding photography. Many services are great for both home and business. Other services that thrive in BNI include embroidery, screen printing, graphic design, catering, venue rental, floral, lawn services, cleaning and carpet cleaning services.
Interested in more information or to arrange a visit? I would be pleased to share my experience and arrange a visit to a chapter with an opening in your business category.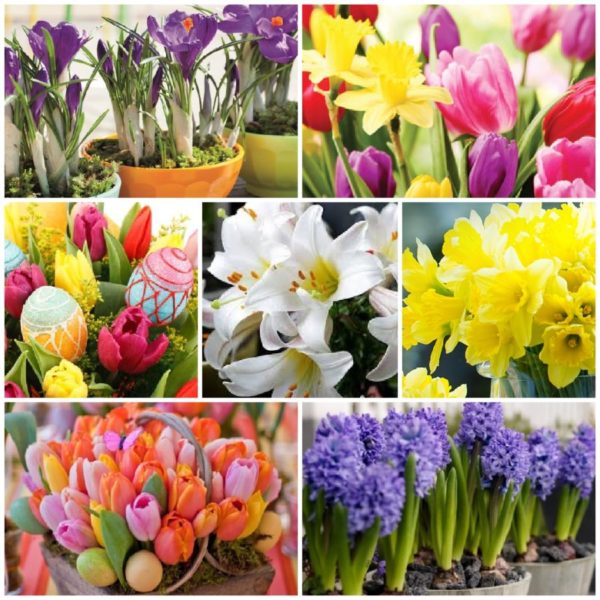 Spring and Easter Blooms
It is thrilling seeing new green shoots erupt from the soil in the spring garden. The patient wait for development is rewarded with the beauty and fragrance of daffodils, tulips, lilies, crocus or hyacinths, among others. Forced spring bulbs in pots give us that same joy and fragrance up close and in the comfort of the home or office. The color display may only last 10 days or so, but in most cases that bulb can later be planted outdoors and provide spring color for years to come.
We offer individual species in 4" and 6" pot sizes, with Easter Lilies in 6" singles or 8" doubles. We also offer mixed bulb gardens for a longer display and a riot of color, with typically three species in an 8" or 10" planter. Order ahead for best availability. Sending a bulb garden as a gift is a thoughtful way to cheer someone as we slog through the late winter weather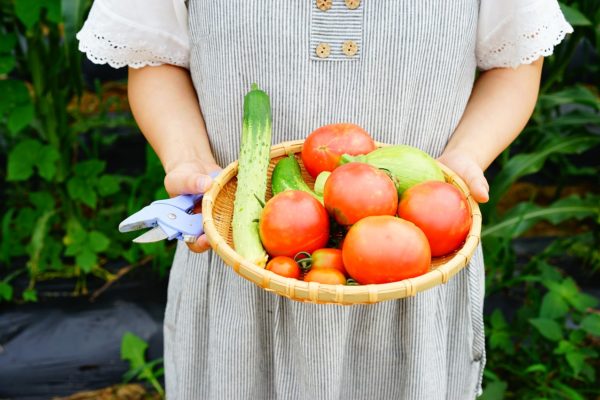 As Fresh As It Gets
Raising food continues to be a hot trend in home gardening. People want to know that the food they are putting into their bodies is as healthy as it can be, and homegrown food simply tastes better than store-bought.
When planning a home vegetable garden, there are a few things to think about to ensure you have a bountiful crop of fresh food to enjoy. Choosing your location is a key component to a successful season.
Most vegetable plants need at least 6 to 10 hours of full sunlight per day. Tomato, cucumber, pepper, and squash need the most sun, while most leafy crops such as lettuce, most herbs, spinach, bush beans, and beets can grow in three to four hours of bright sun.
Often vegetable patches are found in the far back corner of the yard. I encourage changing the location to closer to the house. Keep in mind that you will need to check the water needs, look for pests, remove weeds, and harvest the ripe produce regularly. It is much easier to keep an eye on all of these things when your plants are nearby.
If it's your first time raising a vegetable garden, start small! Get a feeling that first year for how much time it takes before investing a lot of money into a new hobby. Think about how likely you are to use, freeze, can, or give away excess produce. I always make sure to plant extra tomato, bush bean and sugar pea plants. Both the neighbor kids and their dog love to pick and eat these foods while standing in my garden! I love sharing my fresh veggies, (at least with the kids). I also love to share my excess crops with the Lansing City Rescue Mission, and other shelters in the area. Weeding can be time-consuming, but weeds compete for water, nutrients, and light. Also, the lack of airflow that lush weeds cause encourages foliar disease. A 4'x8' garden plot is an ideal starter size. Pick a few varieties of plants you would like to try, be sure to read the tags, and follow spacing instructions. Don't cram them in or you will end up with a smaller, not larger harvest.
Another key to success is having healthy soil that is level and free of large rocks and roots. It is important to determine your soil type, PH, and nutrients. The best way to find this information is to do a soil test at least every three years.  Click on the link for a soil test from MSU https://shop.msu.edu/product_p/bulletin-e3154.htm once you have the results add the recommended amendments and organic matter.
Added organic matter provides better soil porosity and water filtration, and increases the water-holding capacity, reduces water usage and provides nutrients. Well-managed, healthy soil is able to support healthy, vigorous plants.
I like to use shredded leaves, straw or aged shredded bark for mulch three inches thick around plants. These mulches regulate soil temperature, retain moisture, suppress weeds, and keep diseases that may be in the soil from splashing up onto the foliage. The mulch also provides organic material into the bed which is carried down into the soil by rain, beneficial insects and microorganisms.
When deciding where to place each plant in the vegetable bed, I try to use companion planting where I can. Companion planting in gardening and agriculture is the planting of different crops in proximity for a number of different reasons, including pest control, pollination, providing habitat for beneficial insects, maximizing use of space and to increase crop productivity.  I love the book, Carrots Love Tomatoes, and there are many books on companion planting, or click the link to learn more. https://www.ufseeds.com/learning/companion-planting/
Once the garden is planted, you will need to watch for pests regularly. Record what you find in a journal, so you can rely on that information in future years. With a variety of pest management tactics, it is possible to eliminate or reduce the need for pesticide applications. Identify insects and their lifecycle. Only a few are actually pests, many more are either beneficial, or do no harm. Also remember that not all life stages of the pests cause damage.
Be sure to rotate where the varieties of vegetable plants are every few years. Rotating crops help maintain soil fertility. Differing crops use different amounts of soil nutrients, with some crops adding nutrients to the soil. In addition, rotating plant families help manage soil-borne diseases like verticillium wilt, and soil-dwelling insects like corn rootworm. These types of diseases and pests only prefer certain kinds of plants. Plant healthy plants, and keep tools and equipment clean.
Hand pick, or use an old pair of kitchen tongs to remove large insects and drop them into soapy water. If you do need to apply an insecticidal soap, do not apply it in the early morning when pollinators and beneficial insects are most active. Early evening is best. If deer, rabbits, or the neighbor's dog are causing problems, you may need to invest in fencing. I always plant marigold plants through my gardens to deter rabbits and add cheery color.
When the seedlings are up and growing, or potted transplants are in, give the plants at least an inch of water per week. A long soaking drink every few days encourages the roots to grow deeper, where they are better protected and able to access nutrients.
When your vegetables are ripe, enjoy eating fresh, or cooking the wonderful bounty your garden will provide. I know I love sitting down to dinner with my family, feeding them a healthy meal that was the result of the time and effort put into our own garden.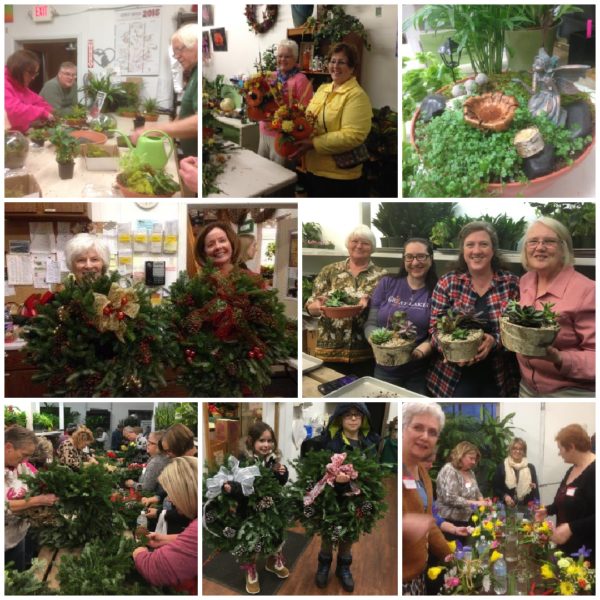 We offer several Make-and-Take class opportunities each season, adapting the design room or warehouse for a couple of hours of fun. We carefully shift the tropical plants, holiday trees or props of the season to clear the floor for extra workspace. We get requests from garden clubs, service clubs, card clubs, scout troops, and church groups. Children are always welcome with a parent or grandparent. Children energize the class with their fun design interpretations.
In spring, we offer classes including Easter arrangements. Centerpieces are created with pastel flowers, small fluffy bunnies, and Easter eggs. Puppies or bunnies can also be made from fresh flowers. We also have classes to create a bulb garden of forced narcissus.
Throughout the year, we hold classes creating fairy gardens, terrariums, or succulent arrangements. In November and December, decorating fresh greens wreaths, with your choice of bow, berries, and cones is a very popular class, as is creating a centerpiece with fresh local mixed evergreens.
Dave, our lead florist, typically creates a sample in advance and has prepared all the materials and tools needed. Participants learn how to cut and arrange flower stems, mound soil and plant, wire in berries, bows, and cones, or whatever pertains to their project for the afternoon or evening. Dave teaches about using odd numbers of each species, placing greenery deep into the floral foam to aid water uptake, and not being afraid to use color and texture to make a statement. Seeing things evolve and hearing the encouragement or friendly teasing lifts our energy even if it's been a long day!
At every Make-and-Take event, we offer refreshments, such as cookies or perhaps some veggies to nibble on with either cider, lemonade, or water. We always offer seating for those who find standing for long periods difficult.
The minimum class size is six, with a maximum of 20 to 30 depending on the project offered. Price ranges from $35 to $55 depending on the project and materials required. We continue to expand the varieties of classes and would love to discuss an event for you and your group.