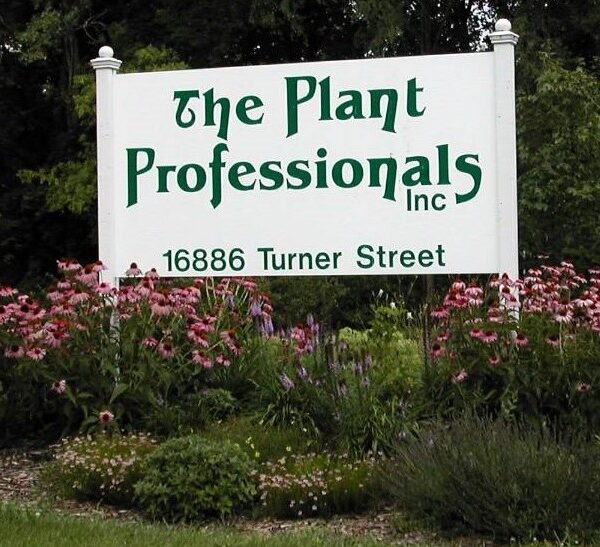 The Secret to Our Success
There are many ways to approach acquiring, building and running a business. I have met thousands of business owners and budding entrepreneurs over my 40-plus years in the horticulture industry. We belong to several associations, chambers of commerce and trade groups, putting me in close contact with people who are competitors, as well as allies, resources, vendors and potential clients.
I find it fascinating to speak with other business owners and learn about their origin story. Some grew up in a family business, or grew up in an industry and saw themselves as ready to launch their own venture. They may have bought the business they work for (as I did), or developed something entirely new based on an interest or an idea.
It is always intriguing to learn about their journey. Some businesses begin as collaborations of friends, and start with two to four people, often shedding partners over time. Prospective leaders or partners discover the difficulty of sustaining the passion. Often, partners can't agree on a path, the level of tolerable risk, or management of revenue vs. investment. Rarely do active partners in large ownerships stay together.
I was a successful employee, my boss's right-hand woman, and eventually the person she made partner, then later asked to buy her out when her business interests and personal life changed course. Fortunately, I had been hiring and managing people for awhile, had a nice base of recurring revenue I had helped build, and was excited to take on the rest of the challenges. I was also ready to have more control, as my senior partner often spent money without consulting me. One of the lessons from that time period as the junior partner was never to buy vehicles, buildings or expensive equipment without consulting with your partners.
I have always felt fortunate to have worked my way through Michigan State University and found an ideal job where I could use my horticultural skills. I have been fortunate to expand the company's services, and to have so many truly excellent people find us, both employees and clients.
We have some wonderfully skilled, caring, and motivated people on our team. The goal is always to make a path for each one to continue to develop their skills, responsibilities and rewards. Many come with related degrees, some come with industry experience, some just come with a great thirst for learning and a will to be essential to their team. We are always hiring, and yet are blessed to have people stay for years or decades when they find their niche. Our continued growth is a testament to our people, and I am as proud of their accomplishments as I am of the business itself.
 My business partner, who made his own path with us by lifting and encouraging others, is Al Marrero. Al has a Master's degree in Forestry Engineering and has worked in Cuba, Brazil, Texas and Florida before settling in Lansing over a decade ago.
We were well established as a successful interior landscape company, but Al broadened our services for exterior clients from the outdoor color we had been doing to landscape design, installation and maintenance.
Alexa LeBaron returned to us as a landscape designer once the  exterior expansion began. She has fueled our growth with her style and expertise.
Our exterior holiday lighting and décor has also expanded, made possible by the larger installation crew that landscape services require. Erika Parker came to us with related experience and a degree, and quickly showed us her skill and organization structuring data, projects and crews. Erika keeps the work on the installation and exterior maintenance services humming, constantly making improvements.
Our underlying success in the interiorscape side of the business is orchestrated by Amelia Sayers, who hires, trains, schedules, and coaches her team of interiorscape technicians. Amelia's friendly yet focused approach creates an environment of constant learning and skill acquisition. If a person loves plants and people is willing to keep learning, Amelia can help them become a great technician.
Our membership in industry organizations makes it possible to offer a variety of continuing education opportunities to those who are ready for more responsibility and added skills. We find that the National Interiorscape Network, Michigan Nursery and Landscape Association and Great Lakes Floral Association have quality educational opportunities for staff development.
So, there you have it. This is how we do what we do. All our secret methods to keep growing our business. There are a few more things of course, as this is intended to be an article, not a book. All the basics are here though. I can sum up our success secrets as a focus on people, learning, and passion for plants. I am always happy to speak with budding business people, especially women or those who are facing special challenges for any number of reasons. Our society is more peaceful and successful when everyone gets to work on their dream.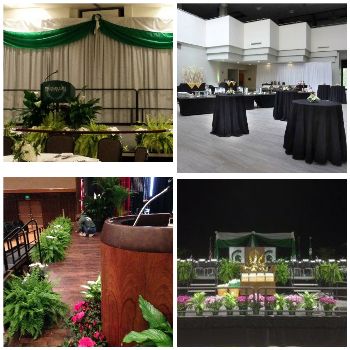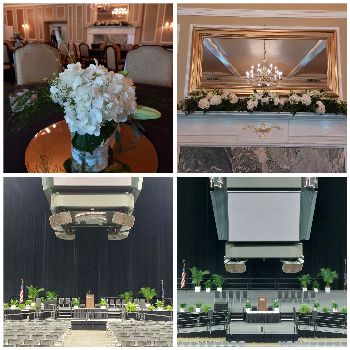 Transformation is the perfect word for what adding lush green plants does for a bare stage. Plants add warmth, vibrancy, texture and color. Plants can be used to frame a view, add height and perspective, or take up space. Live plants may also direct traffic flow for award recipients, or provide visual structure on occasions where multiple people will perform multiple functions on stage, such as speaking, singing, or leading an exercise.
 Adding flowering potted plants, banners or fresh floral arrangements can add color for interest or to support branding or identity. What plants do on stage they also do for seated events, framing and softening large swaths of tables in a convention hall or pavilion. Plants can also define walkways, block unwanted views and absorb sound. Working with professionals allows access to a broad range of living plants, and often a palate of plants which can be repurposed during a conference to perform a series of functions. Plants are the perfect décor for commencements and other commemorative events. Each school, business, association or department can develop a tradition of how the stage will look for their graduates, awardees or featured speaker.
Only living plants catch the light, and have the vibrancy and realism that sets an event apart. Like most supply chains, this one too is disrupted. Foliage used in Michigan comes from nurseries in south Florida. Most flowering plants used here are grown in west Michigan or Canada. Advance planning is key to success. Your plant rental professional will advise you of available crops, discuss lead times and logistics. The more specific your requirements, the longer the lead times required to secure the species and sizes desired.
Plants can also be used outdoors in tents in warm weather, and certain species can actually be used outdoors for golf outings, fundraisers or large sporting or concert events. Events longer than three days, indoors or out, will typically require a care visit to refresh soil moisture and groom the plants to be sure they are looking their best.  
Plants are also a great addition to the green rooms for concert acts, speakers or other performers. Plants can grace your reception suite, and a welcoming fresh floral is a great touch to welcome your featured speaker, incoming CEO, invited dignitaries and thank outgoing board members.
Along with using living plants and flowers to transform, many organizations host an event at the winter holidays.  Most larger plant rental companies also offer artificial evergreen trees with white lights for such events, and accents of color can be added to create a theme. Fresh cut evergreens can be used in planters and in centerpieces for the color and fragrance of the season. Because this season is short and providers few, planning at least six months ahead is recommended to secure the décor for the desired dates.
Transformation is indeed the perfect word for the impact of plants and flowers on a special event. Explore ideas for your next event and add the unique touches that will charm your members and guests.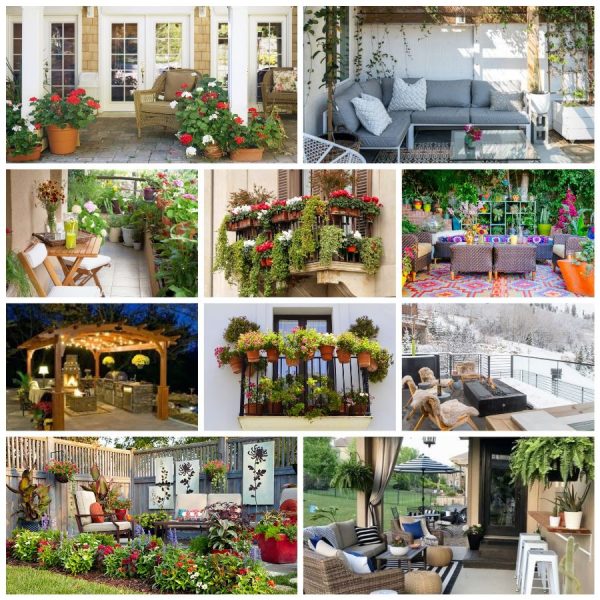 Maximize Your Balconies, Patio, and Porches
When it comes to styling your outdoor spaces, I suggest taking the same approach as you would with a room inside your home. Look at flooring, colors, seating, lighting and accessories. The key is to make your space feel like a destination.
Using intricate patterns in flooring tile, rugs, paint, or stain can give the space an exotic feel. I have personally found that fairly inexpensive outdoor rugs last about 3-4 years before needing to be replaced. Outdoor rugs come in an expansive range of patterns and colors.
Pots of flowers in a single color can make a statement and lift the mood.  I personally enjoy a riot of bold colors mixed together to bring energy and excitement to my space. Outdoor throw pillows, cushions, and tablecloths can also add pops of color.
To maximize small spaces, use built-in planters with benches, or a small café table and chairs. A long narrow console table is perfect for storing garden supplies, while serving as a bar, or a place to display objects or plants.
A string of overhead lights or the addition of hanging lanterns creates a vibrant place to gather with friends and family in the evening.
A small space doesn't have to hold back on the foliage. Tiered plants in containers or narrow beds create a beautiful and lush backdrop. Last year we installed a mix of narrow growing evergreens around a customer's patio to provide year-round privacy for her "secret garden."  The evergreens we chose stay 2-3 feet wide and provide interest through the shades of green, blue, and yellow, and the different textures. 
Be sure to consider whether the plants will be in sun or shade, and how much water the plants will need to be kept healthy.  The use of containers and planter boxes allows for flexible design and seasonal changes. Even a micro balcony looks beautiful with a planter secured to the railing or under a window.
Consider a vertical garden. There are several plant wall systems to choose from that could liven up a drab wall space. I have seen these systems planted with annuals, herbs, vegetables, and some perennials.
 
Make your balcony, patio, or porch more personal by adding unique personal elements such as statuary, garden art, interesting stones, driftwood, or signs with inspirational quotes. I have my grandma's gnome statues peeking out of the foliage around one of my patios to add interest and whimsy.  Whatever your style, keep it functional by not overfilling the space. I love creating and using cozy garden nooks to relax, read, or gather with friends. Even tiny spaces can be transformed with a few touches!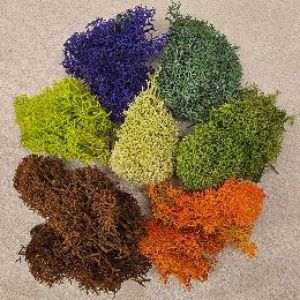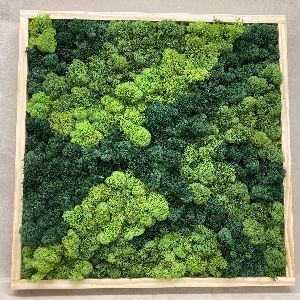 Reindeer Moss – Nature's Gift to the Design World
Called Caribou Moss or Reindeer moss, this silvery cream lichen, Cladonia rangiferina, is common across the artic tundra and taiga. It grows naturally in both mountains and plains in Canada, Siberia, and Scandinavia . This little groundcover is actually a lichen, technically a symbiosis between algae and fungi. It is estimated that 6% of land surfaces on earth are covered in lichens, including this one. This species is extremely cold hardy, and is the predominant food for several species of reindeer, caribou, musk oxen and moose.
Suppliers who harvest the lichens for decorative use pick in a checkerboard pattern, only take growth of a certain size and length, and do not visit the same field again for 4-5 years. Grown occurs in spring and fall, and most fields are covered in snow in winter.
Once harvested and transported to processors, the lichens internal moisture is replaced with glycerin, and then they are dyed with food coloring. Maintaining humidity of 30-50% in the space where the moss is used  helps retain its soft texture.
People are often surprised by the cost for a finished moss wall, but considering the supply chain from tundra to finished wall, and the fact that each piece is an artistic rendering, the cost is not excessive. Depending on whether accents of dried pods, branches or fungi are added, prices can range for $80 to $120 per square foot. Logos or very specific designs cost more, as so much more time is required for design, layout ,and fabrication.