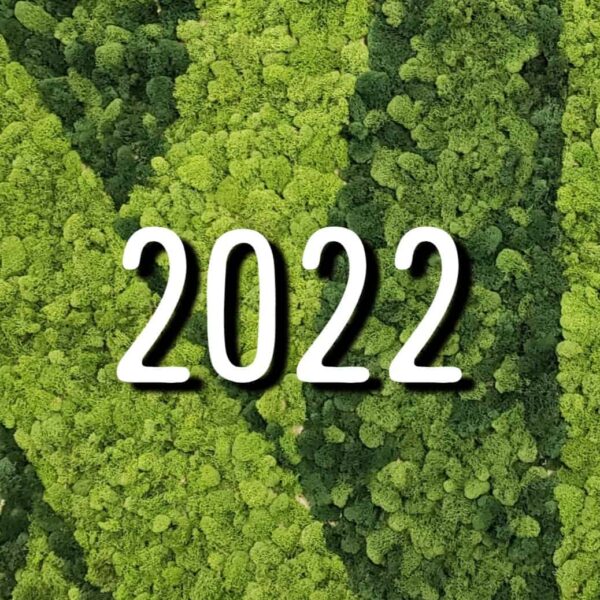 New Year, New View
2020 was such an interesting year, but it didn't start out especially worrisome. In 2021, we began believing we were soon heading out of a pandemic, only to realize we were going to circle back around a few times, as vaccines became available, as some chose to be vaccinated, and some chose to wait, as therapies were argued and new ones introduced, and as Covid continued to change, change, change.
2022 is yet a new start. Hopefully, this will be the year we will begin to leave the pandemic behind, along with supply chain woes and inflationary prices at so many levels of business and industry. We already know that though some plant prices in the interiorscape have leveled off, landscape and seasonal color plants look to be continuing the upward climb, with shortages anticipated yet again. We have learned to get creative in sourcing, in design approaches, and in what we produce or fabricate ourselves to meet client needs.
I am feeling optimistic that we can move forward, that the disease will begin to be less lethal and more easily treatable, and that someday we can again go for a grocery run and not have to pack a mask and hand sanitizer.
We find ourselves continuing to grow, and to look for more great people who love working with plants. We are looking for new ways to continue to improve our offerings and provide a strong value with every sale and every service we provide.
We have a lot of larger interiorscape projects coming to fruition this winter and spring, and more on tap for summer as well. I am so thankful that the Florida growers are at last beginning to get crops to market without big gaps of availability. Fiberglass planter makers are able to get what we need, though it does cost more, and the shipping costs a lot more than just two years ago. It feels like the pressures are falling away a bit, as long as businesses are able to keep employees safe, healthy and working.
Events indoors and in person have returned, though tables are spaced differently, vaccine cards must sometimes be presented, and extra precautions are still the wise choice when gathering.
As we celebrated the holidays and brought the old year to an end and began the new, my business view changed. I anticipate a longer, more gradual climb from the stresses of pandemic on people of all sorts and circumstances. I have stopped craving the instant return to what I knew before. I realize that some of what I have learned and experienced has brought positive change. I acknowledge that so much of what we weathered was difficult and stressful. I am once again looking forward to the lengthening days of spring, the early crocus and glory of the snow, and the daffodils and hyacinths to follow. I hope you are also looking forward to spring, and are able to do so with optimism and hope.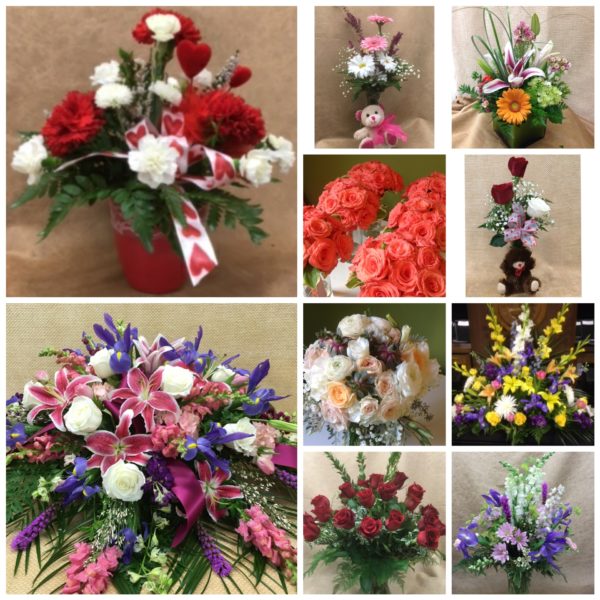 Floral events happen all through the year. Many are personal– weddings, orders for funeral or tribute flowers. Valentine's Day and Mother's Day, Easter, Thanksgiving, Christmas and Hanukkah are traditionally occasions to send flowers. They can be sent when we're not able to be personally present, or presented when we arrive at special occasions, or used as a decoration for our own homes. Flowers can add a special touch to celebrate birthdays, new babies and anniversaries, as well as proms and other dances, lua'us and graduation open houses. The list is long and varied.
We have offered full-service floral for all these occasions, as well as corporate events, commencement stages and fundraising galas, for many years. Our delivery area spans Mason to St. Johns and Charlotte to Williamston, and we travel beyond this for weddings and corporate events of appropriate size. Often we provide live foliage and flowering plant rental along with fresh florals.
If you are beginning planning for a wedding or other event, Deb Ottinger would be pleased to speak with you, plan a meeting in person (masked and socially distanced) or via Zoom, and gather all the important details needed for a written proposal for your consideration.
You may be very familiar with our floral services, or you may not have been aware that we are also florists. It may interest you to know that we are long-time members of the Greater Lansing Convention and Visitors' Bureau, and the Great Lakes Floral Association.
Our lead florist, Deb, has an interior design degree and over a decade of professional floral design experience, having owned her own shop and also having worked for two other local floral shops. Dave, our long-time designer, still works occasionally on special projects, and has over 50 years of floral design and business experience. Erika and Alexa also jump in to assist when large orders require extra skilled hands.
We will be partnering with WKAR Radio (90.5 FM) this year for a promotion to reward donors with Valentine flowers. Look for that advertising in January and February. This is a great opportunity to support the station and be rewarded with a lush floral gift.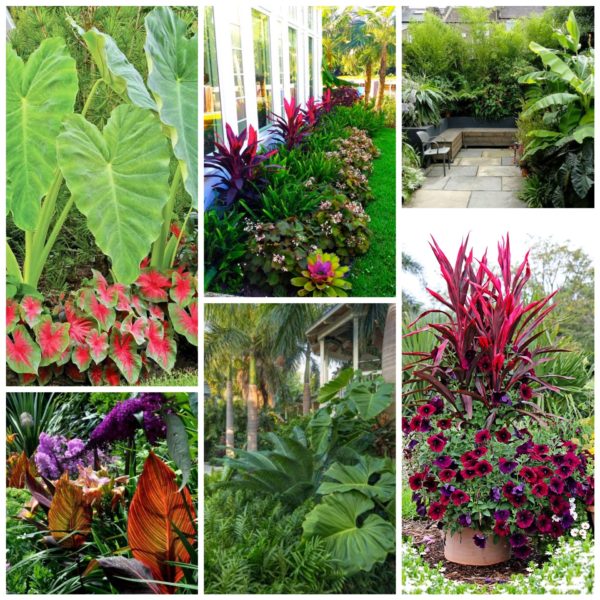 Be Transported to the Tropics This Summer
While travel restrictions continue to deter many from venturing to far-off destinations, you can still get the feel of the tropics in your own space, by incorporating tropical or tropical-like plants in your landscape or on the patio.
Tropical climates are sunny, warm, and humid with big plants growing close together. In our northern climate, we can imitate some key characteristics: large leaves, unusually-shaped foliage, large and full plants, and bold and brightly hued flowers.
Surround yourself with plants. Tropical gardens are lush with plants and can mentally transport us to a place of peace and tranquility. Use large and oversized pots on a patio or balcony, or in your garden beds. Abundantly fill the containers with quick growing annuals in a range of bright colors and textures. If large containers aren't in the budget, add a few tropical or tropical-like plants in key places in the landscape. Place these in areas you tend to pass by often.
Use pieces of sculpture and furnishings to enhance the feel of the tropics. Use ornaments such as flamingo or egret statues. Hanging chairs or hammocks are great to relax in. Bamboo or rattan furniture with colorful cushions and accents also work in a tropical setting. Outdoor lighting or garden torches accent the dramatic flowers and foliage.
Water features give authenticity to a tropical garden. The sound of water trickling has a calming and cooling effect. Include a small table-top fountain to a small space, or consider adding a pond as large or small as your budget or space can manage to the garden.
Many tropical plants need consistently moist soil, so consider adding an irrigation system or using self-watering containers.
Plants that are easy to grow in zone 5: Hardy Hibiscus, Rose of Sharon, Yucca, Japanese Toad Lily, Hosta 'Empress Wu', Hardy Fig, Zebra grass, clump-forming bamboo 'Rufus', or Trumpet Vine. 
Plants that need to be dug and stored for the winter include: Canna lillies, Dahlias, Elephant Ear.
 Plants that need to be moved indoors in winter include: Cordyline, Croton, Palms, Bromeliads, Orchids, and Mandevilla.
 Click on the links below for more information on overwintering tropical plants.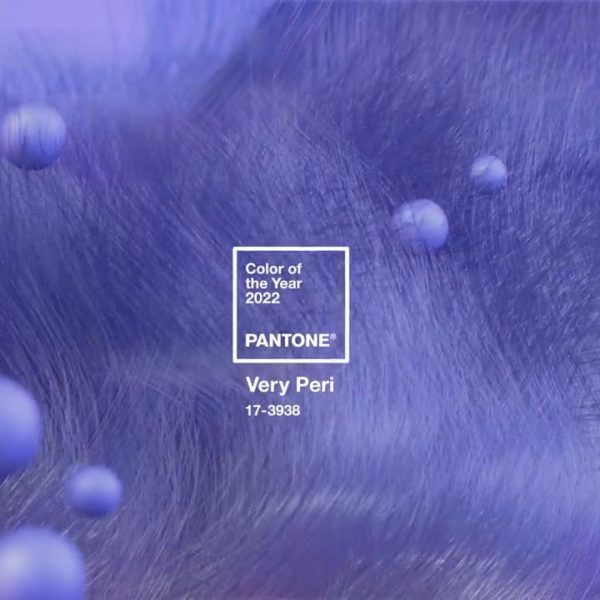 Very Peri® is Pantone Color for 2022
"The Pantone Color of the Year reflects what is taking place in our global culture, expressing what people are looking for that color can hope to answer." According to Leatrice Eisman, Executive Director of the Pantone Color Institute "As we move into a world of unprecedented change, the selection of Pantone 17-3938 Very Peri® brings a novel perspective and vision of the trusted and beloved blue color family, encompassing the qualities of the blues, yet at the same time with its violet red undertone, Very Peri® displays a spritely, joyous, attitude and dynamic presence that encourages courageous creativity and imaginative expressions."
Blue annuals and perennials that look nice in the garden or floral displays are select varieties of: Flax, Catmint, Delphinium, Iris, Globe Thistle, Bachelor Button, Lobelia, Salvia, Geranium, Agapanthus, Hydrangea, Anemone, Hyacinth, and creeping myrtle.