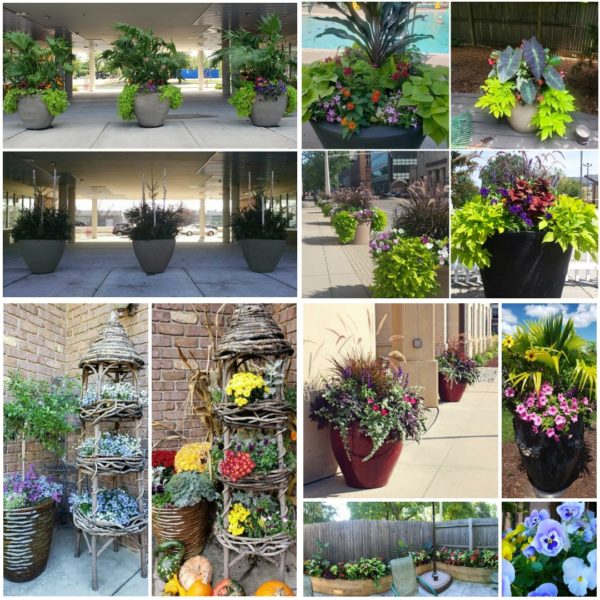 Exactly What Does 'Outdoor Color' Mean?
This was the question a friend asked me recently- and I am sure she isn't the only person who has wondered. Outdoor color is the term we use for any temporary or seasonal plants and materials we plant or place in outdoor planters or beds to add visual interest to buildings.
We have many clients- commercial, residential and institutional who have large, stable, exterior planters. These typically have a 24" to a 48" inside diameter . Planters made of stone, concrete, resin, metal, wood or plastic may be used outside all year here in Michigan. Planters of terra cotta or ceramic, though beautiful, are best emptied in fall and stored in a garage or under an overhang to keep them from cracking and freezing in response to wet soils expanding dramatically in low temperatures.
Small planters of less than 24" in diameter are not great candidates for outdoor displays unless frequent watering can be achieved with drip irrigation, as they dry quickly in sun or wind.
A typical planter at a home, apartment complex or corporate entrance will receive pansies and curly willow accents in late March, summer tropicals in early June, mums, kale and asters in September and mixed evergreens with branch accents in November. Hotels or other high traffic entrances where clients want to bring more color for the eye early in spring allow us to plunge pots of forced tulip, daffodil or hyacinth bulbs into their planters in late February or early March.
Color themes can be created for each season. Using all yellow daffodils will create one look, while mixing red tulips and purple hyacinths gives quite a different perspective. Pansies come in a dozen colors, as well as mixes. Some varieties are solid colors, many popular varieties are said to have a "face", with two tones or more in each flower. Perhaps one year we combine yellow and orange with touches of blue, and the next year we use burgundy red with white . We frequently use natural green curly willow for height and accent in the centers of planters in spring, and the new foliage that develops on the stems of the willow late in spring is fresh,  bright and hopeful. Alternatively, dried willow can be painted in spring pastels or a solid bright color to carry forward a spring look or add corporate color accents.
Summer is the opportunity for tremendous variety and personal style. Many of our larger projects get fan palms or alocasias for central drama and height, or purple fountain grass, Cyperus, tall dahlias, spike or other cordyline. Full and colorful annuals surrounding that central "thriller" as "fillers". There are literally dozens of species and hundreds of varieties of appropriate annuals in our palate . The last member of the traditional design triad is the "spiller", often sweet potato vine in one of five colors, vinca vine, English ivy, licorice vine in one of three colors, senecio, or even wave petunias for a trailer with bright color as a bonus.
Summer planters can also include evergreens, upright vines on trellises, Ficus trees, hibiscus, the list really is extensive. The look can be tailored, exuberant or whimsical, and elements like moss balls, garden globes and stakes or even brightly colored pebbles can help carry a theme.
In fall the dominant flower is the chrysanthemum in white, yellow, orange, rust, bronze, lavender , red and pink , with asters available in pinks and blues and sometimes purple. We like to use rainbow chard when available, and both decorative kale and cabbage come in white or purple centers and ruffled or fringed edges. Grasses make nice central elements, or birch or bamboo branches or poles. All the living elements must be quite cold tolerant , as they will be in place until November.
Potted evergreens make for pretty pot fillers, but few remain healthy through the entire winter due to repeated freezing and thawing cycles. If they do stay green…they need a summer home if annuals are desired in that planter. We prefer to use cut Fraser and Concolor  fir, spruce, pine and cedar for a fragrant and varied display . Red twig dogwood, birch logs or painted branches in metallic colors can add vibrancy. We add white tipped or natural cones or UV resistant and unbreakable ornaments on hyacinth stakes for color theming where desired.
Rather than simply designing and planting for our clients, we offer care for the plantings from the spring through fall. We monitor, water, fertilize, prune, dead head, weed and treat any insects we encounter. Our mission is to keep each planter pretty year- round. We compost all removed natural materials, and offer storage for holiday themed décor off season.  The result is a display that our clients and their neighbors, employees, and clients, can enjoy without worry.
We can plan and quote a program in existing planters or start from a blank slate. We ask questions to determine goals, special considerations and budget and provide a detailed written quote. We can quote one season, just summer and winter, or four or even five changes per year. Many clients have us quote during late winter for spring and the whole year ahead.
Yes, we do plant flowers in beds as well, and have several apartment complexes and residences we serve. Whatever you are thinking of having us assist with, we are happy to design and quote for you.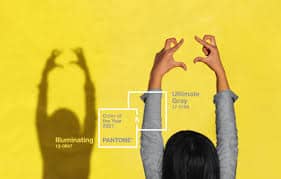 Ultimate Gray and Illuminating are the Pantone Colors of the Year 2021
"A marriage of color conveying a message of strength and hopefulness that is both enduring and uplifting" For only the second time, Pantone has chosen two colors to represent the year! According to Leatrice Eiseman, Executive Director of the Pantone Color Institute says "The Union of an enduring Ultimate Gray with the vibrant yellow Illuminating expresses a message of positivity supported by fortitude. Practical and rock solid but at the same time warming and optimistic, this is a color combination that gives us resilience and hope. We need to feel encouraged and uplifted; this is essential to the human spirit".
Bring these colors into your garden or home by using gray containers for your plants, or incorporate grey into the landscape by using natural boulders for seating, interest, or retaining walls. Grey pavers also look great when creating beautiful hardscapes, such as patios, walkways, and retaining walls. Gray can also be added in shutters or deck stain.
In the garden, there are many options for sunny yellow flowering annuals, perennials, and shrubs. A few select annuals are: Sunflowers, Pansies, Zinnia 'Double Zahara', and Marigold varieties. Yellow flowering perennials include: Black-eyed Susan, Coneflower 'Sombrero Lemon Yellow' and 'Lemon Drop' , Coreopsis (most coreopsis produce yellow flowers, but I find 'Jethro Tull' to be the hardiest for our climate), and select varieties of Daylily, the most popular being 'Stella D'Oro' . Forsythia, Roses, such as Sunny Knockout and OSO Easy Lemon Zest, Potentilla, and St Johns Wort are shrubs that produce vibrant yellow flowers.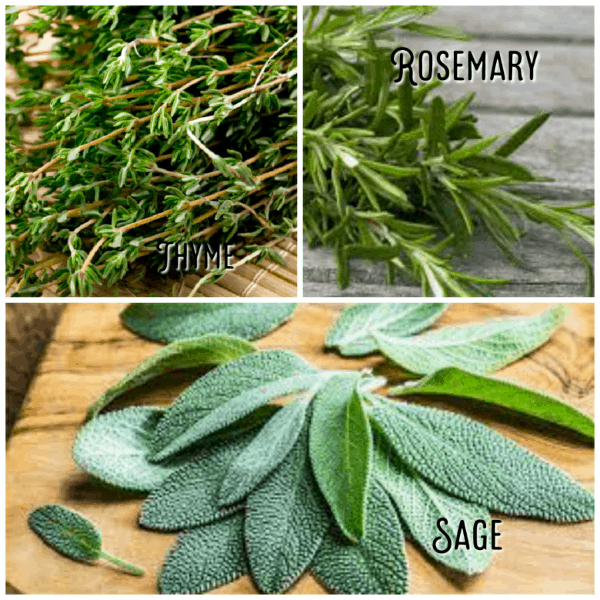 Herbs — Sage, Rosemary, and Thyme – The Classics!
In botany, the term "herb" refers to an herbaceous plant. Herbaceous plants have soft, flexible aerial portions (meaning no woody stems) and die to the ground after each growing season. To most people, herbs include a large range of plants with savory, aromatic, medicinal, or spiritual properties. Some of them may be woody. Humans have been documented using herbs for their health properties as early as 5000 BC by the Sumerians. Ancient Egyptians recorded in 1555 BC the use of fennel, coriander, juniper, cumin, garlic and thyme. In ancient Greece and Rome 460-377 BC, Hippocrates had a repertoire of 300 remedies, using a variety of herbs. Native Americans and other indigenous peoples have burned sage for centuries as part of a spiritual ritual to cleanse a person or space, and to promote healing and wisdom. 
Sage
Sage is prized for its strong herbal aroma and earthy flavor. Sage is often used in savory recipes with lamb and poultry, and many enjoy sage in their holiday stuffing. Originating in the Mediterranean, it has been noted in ancient times as being one of the most important herbs. Many civilizations believed it warded off evil, boosted female fertility, and had powerful anti-inflammatory properties.
Sage is still considered a useful healing plant today, reducing inflammation of the digestive tract, relieving stomach pains, and treating sore throats. Sage also has powerful anti-fungal and antibacterial properties. The scent is said to increase focus and sharpen memory. In the language of flowers, the cryptological communication through the use or arrangement of flowers, sage symbolizes wisdom and immortality.
The small mounding sub-shrub of sage is part of the mint family. It has oval, dusty gray-green leaves with woody stems. Sage is sold fresh or dried. Note that the fuzzy hairs on the leaves can make it unpleasant to eat raw. There are hundreds of varieties of sage, but the sage used for culinary purposes is known as garden sage or Salvia officinalis. Salvia comes from the Latin word "to save". Sage is high in vitamins K, C, B, copper, and thiamin. It is also a good source of vitamin A, fiber, calcium, iron, folate, magnesium, manganese. Loaded with antioxidants, sage has been shown to improve brain function and memory. Click the link to read more about the health benefits of sage. https://www.medicalnewstoday.com/articles/266480#nutrition 
Sage is hardy, and easy to grow. Choose a sunny location with room for the plant to grow 25" wide and tall. This plant likes nitrogen rich, well-draining soil with regular watering. While I personally don't enjoy the taste, I love to grow this herb to attract beneficial insects, feed my honey bees, and to deter pests. Sage produces white, pink, or purple flowers. Harvest by pinching off leaves or snip small sprigs. Harvest lightly the first year. Once fully-established each plant can be harvested up to three times in one season.  
Rosemary
Rosemary is a fragrant herb native to the Mediterranean used in culinary dishes, medicinally and perfumes. Since ancient times, rosemary has been traditionally used to help alleviate muscle pain, improve memory, boost the immune and circulatory systems, and promote hair growth. According to research in Therapeutic Advances in Psychology, the aroma from rosemary can improve a person's concentration, performance, speed, accuracy, and mood. In the language of flowers, rosemary symbolizes remembrance.
Rosemary, a member of the mint family, is a good source for iron, calcium, vitamin B-6, is rich in antioxidants, and has anti-inflammatory properties.  This herb can be used dried, fresh, powdered, in teas, and in liquid extract. Beware that very high doses may cause vomiting, coma, and pulmonary edema.
Check out this link to read more about the health benefits of rosemary. https://www.medicalnewstoday.com/articles/266370#benefits 
Rosemary grows best in warm areas with high humidity. In zones colder than 7, such as Michigan's zone 5, this plant can be grown in a pot that can move from indoors to out as the season changes. I personally treat it as an annual and purchase a new plant each spring.   Rosemary likes to be placed in full sun with well-draining soil, it does not like to be constantly wet. If you choose to move it indoors in the early fall, place it in bright light and protect it from cold drafts.
Harvest rosemary by snipping off young stems to use fresh, hang to dry, or freeze. Harvest up to one third of the plant at one time.
Thyme
Thyme is an herb with culinary, medicinal, and ornamental uses. The flowers, leaves, and oils have been used to treat a range of symptoms and complaints. There is evidence of ancient Egyptians utilizing thyme's powerful antiseptic properties in embalming rituals. Romans considered the herb a symbol of strength and bravery, and would pin sprigs onto their garments before battle, and would also burn bunches to purify the air in homes and places of worship.  In the Middle Ages, thyme was thought to be protection from infection causing the Bubonic Plague. Thyme was used to treat the skin lesions caused by the disease, due to its antiseptic qualities.  Thyme has also been used throughout history for food preservation. It has a nice flavor as well as antibacterial properties. In the language of flowers, this herb symbolizes courage and strength.
A member of the mint family and originating in the Mediterranean. With over 50 varieties with different flavors and fragrances, English thyme is the variety most used in cooking. This herb can be used fresh, dried, or frozen. Thyme is a great source of vitamin C, and a good source of vitamin A, copper, fiber, iron, and manganese. Many people use thyme oil in aromatherapy to provide relief from respiratory ailments and to stimulate the immune and cardiovascular systems.
Thymol, a compound found in thyme, is used in many pesticides for both indoor and outdoor plants, as well as deterrents for mice, rats, and other pests. Thyme is a common ingredient in mouthwash, natural deodorants, and potpourris. Go to this link to learn more about thyme: https://www.medicalnewstoday.com/articles/266016#benefits
Thyme is drought-friendly with low water needs. This plant thrives in full sun and well-draining soil. Space plants 12-24" apart depending on the variety. For the best flavor, harvest just before flowering, in the morning after the dew is dry. Cut off the top six inches of growth, leaving the tough woody parts. Thyme can be harvested up to three times per season once established.
It fascinates me that people have been using herbs for thousands of years in many different applications. Scientists continue to study how and why these remedies work, some applications include uses in modern medicine. I will continue to share information on herbs in future newsletters, so stay tuned.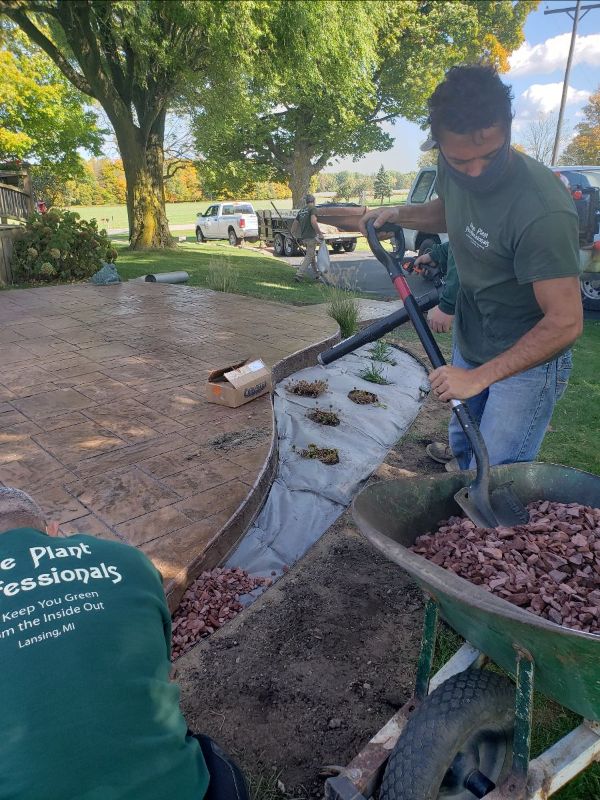 Our Year in Review
We all know that 2020 was a strange year to say the least. Everyone in the Green Industry was taken by surprise by the amount of people that turned to plants and gardening as a source of comfort! I recently attended a virtual community meeting with MNLA (Michigan Nursery and Landscape Association). Several nursery growers from Michigan talked about the plant trends for 2021, as well as discussions about the plant shortages they are experiencing. All of them have hired extra help, increased their hours, even bought new machines to help with production. Most nursery representatives said that they had to dip into 2021 stock to fill the demand in 2020. For us, this last year was a year of building relationships with our clients.
We worked with many returning, ongoing and new customers. We have many projects started that will be completed this coming summer. Some jobs are waiting for the plants to be installed in the spring, but the hardscape is complete. Some are designed, proposed and accepted, and we are waiting for warmer weather to complete installation. A few jobs need the hardscape to be installed after the thaw. We enjoy helping our customers plan work in phases that fit their budget and needs.