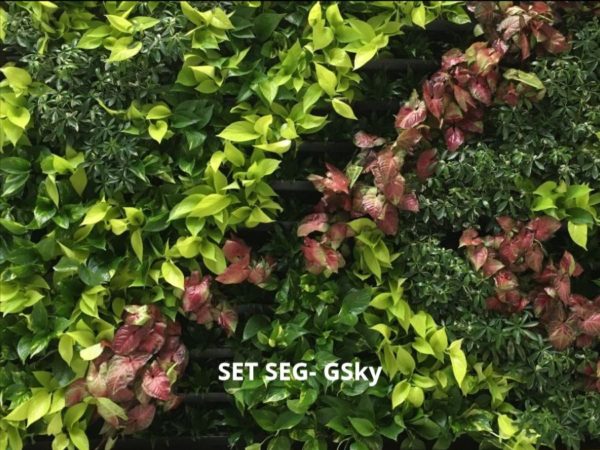 Visions of Green
As Green Walls become more commonly used and visible, the public's reaction has been quite gratifying. Our first major project was the Gathering Place wall in Sparrow Hospital in 2016, using the GSky system. At 14' tall and over 20' wide, the visual impact is undeniable. At this height, a scissor lift for access is a requirement, and grooming and pruning is done every 14 days. Our focus is on vibrant color and plant health.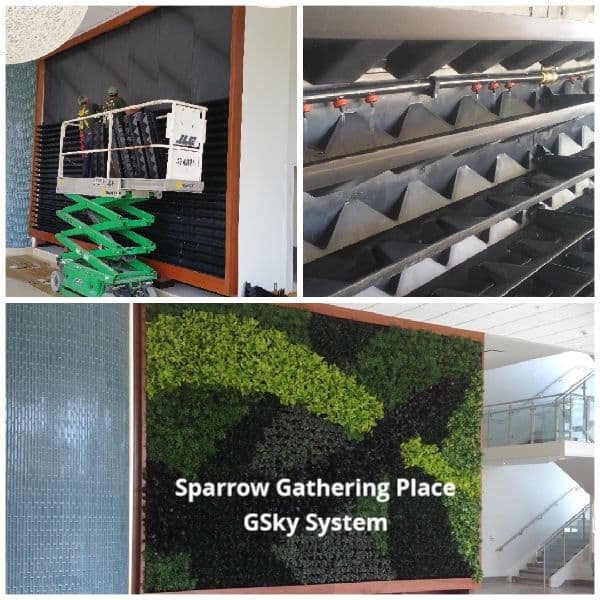 This installation has built-in irrigation and drainage, with a system allowing us to inject fertilizer through the watering system. Our technicians must constantly evaluate plant growth and fullness. With over 1,200 plants in the design, there is a protocol for rotating fresh plants in, while maintaining design integrity. The 4" pot size allows a great deal of design flexibility when planning the initial installation of living art, including the use of curves. The small plants are tilted out to face the observer, giving an immediate "wow" factor.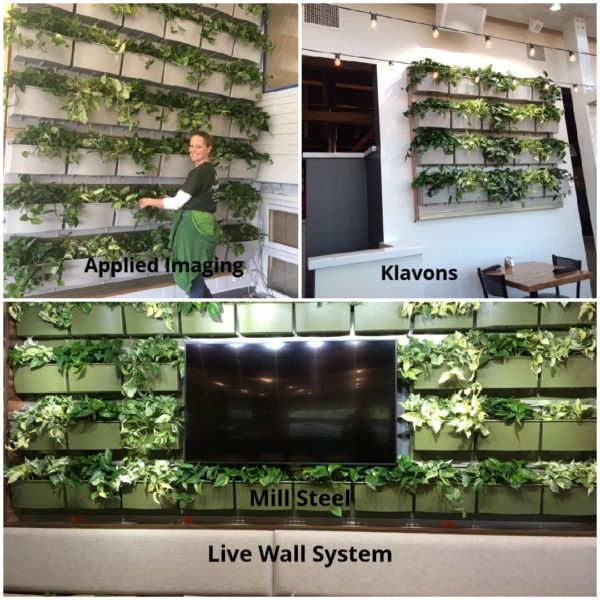 A wonderful system that can be used in Michigan indoors or out is called Live Wall. Based in Spring Lake, the Live Wall team has designed a high-quality mounting system, using decorative bins and inserts that allow the plants to be rooted in pairs in an insert. This makes plant changes simple and quick. The plants display upright, and vines then grow over to spill down.
Because the bins allow a 6" plant to root into a larger soil mass, plants live longer and become larger in this system, though pruning does become a near constant activity.
We have plants under our care in this system at Mill Steel in Grand Rapids, and Klavon's Pizzeria and Pub in Mason. We also installed an exterior system for the state of Michigan for Constitution Hall several years ago. Our Live Roof on our grow pot exchange facility at The Plant Professionals is a product of this same organization.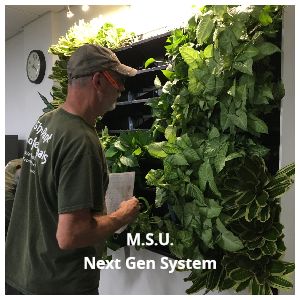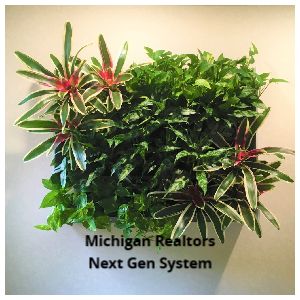 Another versatile system which we have used multiple times is the Next Gen system by the ASI Group. This relatively inexpensive system is modular, using backer grids and trays, and the plants remain in 6" grow-pots in this application. Small portrait size displays for offices and lobbies are easily designed in this system.
There are also systems where cuttings are rooted into batting, systems of wheeled room dividers, and systems designed for growing food or herbs on patios. Vertical plantings are experiencing an explosion of interest and innovation.
For each system, there are three keys for success. Supplemental lighting mounted above the wall system, either from the wall or ideally from the ceiling, insures adequate light from a source directly above the plants. Plants must be positioned at a height safely reached by an 8' ladder, or a scissor lift must be available for service every 14 days. Scissor lift operators must be safety certified and aware of their surroundings at all times.
The third key is a commitment to professional care. Even with an irrigation system, insects and diseases must be scouted and treated, fertilization planned and constant pruning maintained.
We have been busy throughout 2019 with new project designs and quotes. Pricing generally ranges from $150 to $250 per square foot, installed and planted. Is there a green wall in your future plans? We can visit your existing building or look at the plans for your new space, and advice on what systems you should consider for your application. We would love to assist you in greening your vertical space.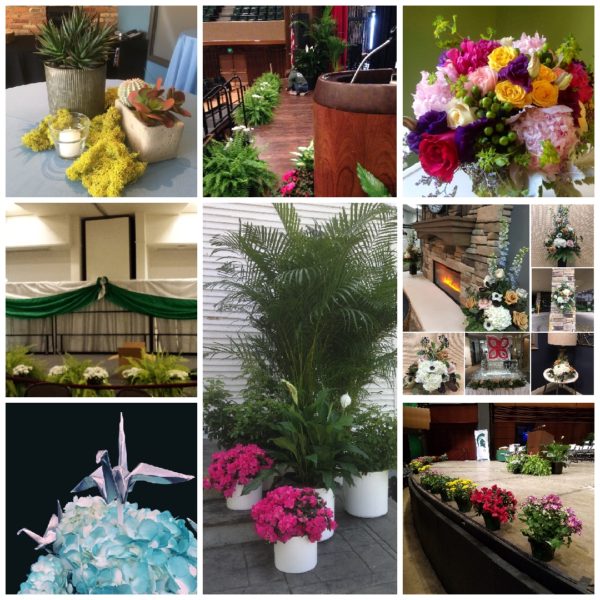 Planning a public event requires skill and style. So many details and decisions must be addressed. We understand the pressures an event planner faces. We have served an ever-growing clientele in this work for several reasons. We take care to provide healthy and attractive plants and beautifully-arranged floral pieces. We provide a detailed written quote. Being on time for both delivery and for pick-up are central to our reputation and our clients' satisfaction. We care about making each event beautiful and meaningful for those who experience it.
Stage settings might frame a performance space or highlight an awards ceremony. A cocktail space might need soft framing with plants or colorful centerpieces to set a mood. A chapel might require aisle pieces to focus the eyes of the guests toward the bride as she comes up to meet her groom. Adding plants to an entrance or flowers to a check-in table elevates the impression, and creates a feeling for guests. We love adding special accents to enhance the layout and flow of a tradeshow or educational event. Contact us early for help with design and best availability of product. We work throughout Michigan.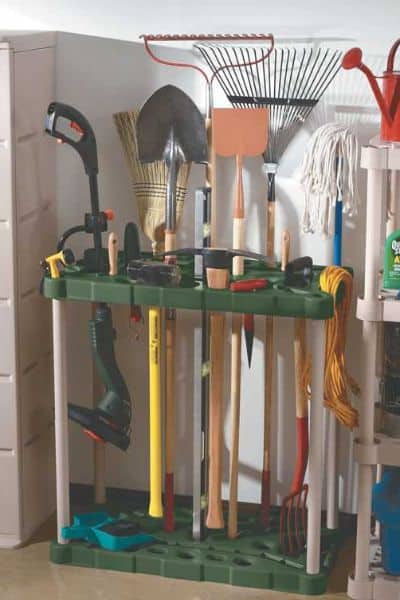 Winterize Your Garden Tools
Now that the garden beds are cleaned up and sleeping for the winter, it's time to set yourself up for success in the spring. By winterizing your garden tools now, you will be in good shape and ready to go come spring, instead of dealing with rusted or cracked tools that may need replacing.
The first step in preparing your tools for winter storage is to make sure all tools are free of dirt. Soil left on tools is the main cause of rust. Scrape or scrub dirt off of all metal parts with a coarse metal brush. Then, lightly sand any rust spots with fine sandpaper or steel wool.
Sharpen the blades of your shovels, pruners, hedge trimmers, and loppers with a sharpening stone or file. Some small engine repair shops or farm and implement dealers will professionally sharpen tools such as chainsaws and saw blades. Be sure to get rid of any blades that are damaged.
Once all the metal tool parts of your tools are cleaned and sharpened, wipe them down with a rag soaked in vegetable oil to prevent rust.
Inspect all handles. Sand away any splinters and apply linseed oil the wood. Linseed oil keeps the wood from drying out and cracking.
Be sure to drain all hoses and sprinkler systems to prevent them from bursting. Neatly coil hoses to avoid kinks that cause wear and cracks.
Clean and sterilize pots and planters to remove mold, fungus, plant diseases, and pests. Use a mild dish soap or a little bleach diluted in water, with a soft bristle brush. Be sure to thoroughly rinse the pots and planters, then store in a dry location.
Don't forget your wheelbarrow. Remove rust, oil the handles, tighten any screws that may have loosened over the season, and check the tires.
Once all the tools are cleaned, sharpened, and oiled, store them in a clean dry location. There are many storage systems available. I have found that wall pegs in my storage space for small hand tools, and a tool caddy for my rakes and shovels work well for me. Tools laying on cement or soil can lead to rusty metal and rotten wood handles.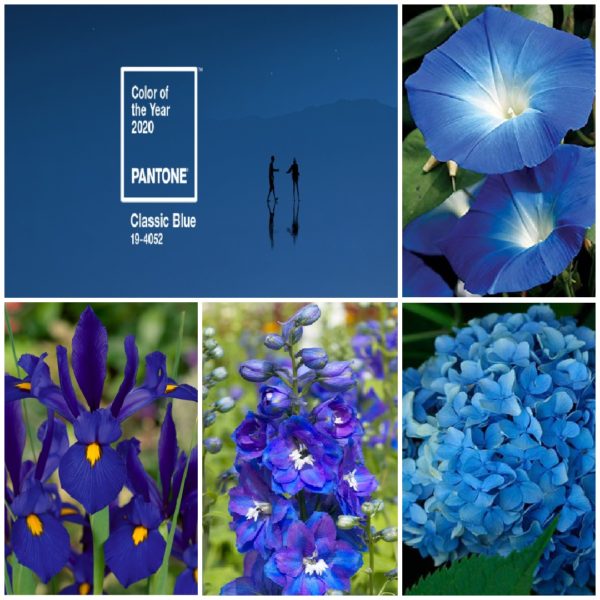 Classic Blue is Pantone Color of The Year for 2020
"A timeless and enduring blue hue, Pantone Classic Blue is elegant in its simplicity" as described by Pantone. According to Leatrice Eiseman, Executive Director of the Pantone Color Institute: "We are living in a time that requires trust and faith. It is a kind of constancy and confidence that is expressed by Pantone Classic Blue, a solid and dependable blue hue we can always rely on. Imbued with a deep resonance, Classic Blue provides an anchoring foundation."
Classic Blue brings a stilling calm, whether it is used in your home, garden, or for a special event. In the plant world, the color "blue" is open to interpretation, with very few flowers actually being a true blue.
 Blue annuals and perennials that look nice in the garden are select varieties of: Flax, Catmint, Delphinium, Iris, Globe Thistle, Bachelor Button, Lobelia, Salvia, and Morning Glory. Blue flowers that look beautiful in a floral display include: Iris, Delphinium, Agapanthus, Hydrangea, Anemone, and Hyacinth.