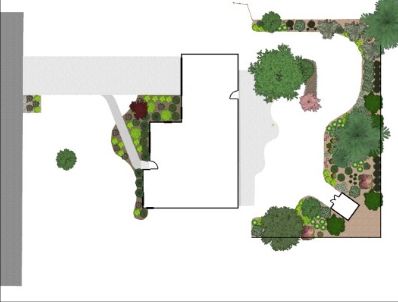 Create Your Own Adventure
If you read garden design or architectural design blogs or magazines, you have likely seen some spectacular gardens and unique patios, porches and three-season rooms that open to the outdoors. There are so many styles and spatial layouts to use, whether your lot is tiny or expansive. If you are updating an existing home or designing a brand-new garden, think about how you ideally want to use the outdoor spaces or rooms that you can create. Would a greenhouse be a wonderful entertainment spot? What about a vegetable garden with herbs and flowers right off the patio, for fresh picked delights in summer?
Your dream kitchen might be $65,000, but a lovely outdoor grilling kitchen might be a third of that cost. So much depends on you and your family. Do you grill year-round? Does someone like to stargaze on clear nights? Do you need a cozy tiny cottage for the writer or freelance designer in the family? Do your kids need a treehouse to escape to? Do you?
 Before you agree to what your contractor recommends as popular this year or your realtor favors for resale value, take a few days and explore ideas from all of your favorite sources. Your list and budget will be different if this is a five-year house, then it will be if this is your forever house. So much is changing rapidly, from how cars will be powered to how we think about the need for trees, how water can be conserved and how to create at home outdoor spaces for activity and entertainment.
Make this planning a satisfying process. Walk into the yard from every entry point, and think about first impressions and where sight lines take you. What features beyond your own space can you capitalize upon, and what power poles and antenna can you block with trees, fencing, or that treehouse?
How will the space be used by yourself, your family, and your guests? Will there be pets that need to be considered? Perhaps even a few chickens for the garden, or a pair of ducks for a pool? Every bird or animal will involve care and feeding, and every small animal has potential predators, so think about how to design spaces and shelter for success.
Get down at ground level, or at least sit down in a few spots with your camp chair and think about what might flow well in the spaces you see. Where does the soil need to be graded away from the house or garage? Consider putting up a good-sized step ladder and see the perspective from 10 feet up. How does that change how you see the space? If you are considering a treehouse or cottage, what would your views be from there, and how would your neighbors feel?
I am near completion of a garden cottage now, and the small loft has a lovely south-facing window. I have several areas of  privacy fence at my home, as does my neighbor across the street. That loft window overlooks my garden,  but also allows me to see into a portion of her pool enclosure. I have kept her informed of my plans and process since I first applied for permits. I have diplomatically shared that the loft window allows a small view into a small part of her pool enclosure.
If you have a gardening friend whose place you admire, invite her or him over to walk and talk. Get ideas from several sources if possible. Then put things down on paper or into a design program, before you begin to price out the materials and plan the process. Get help from a professional for any project steps in which you lack expertise. Consider planning a two or three stage installation over the next few years to achieve your goals without economic stress. If you want a garden designer to walk with you, Alexa LeBaron is a great sounding board and resource. Call 517-327-1059 and ask for Alexa if you would like her to assist you.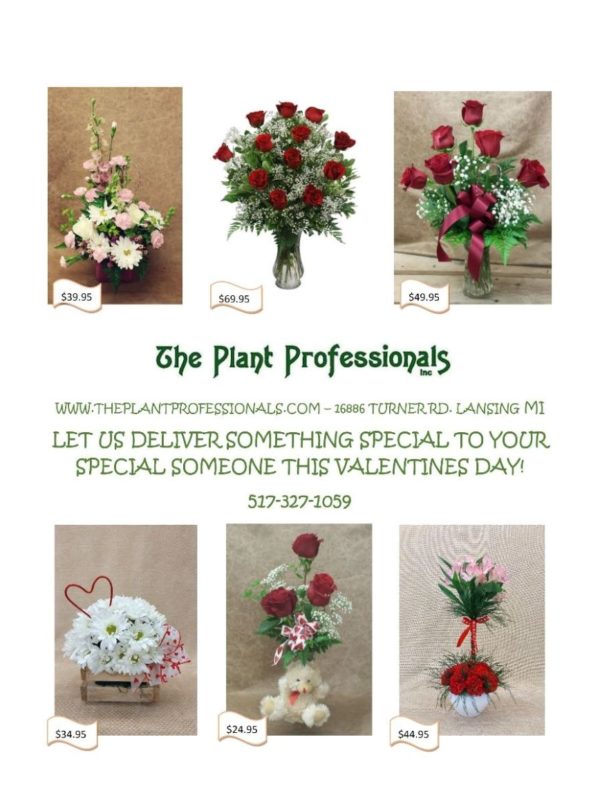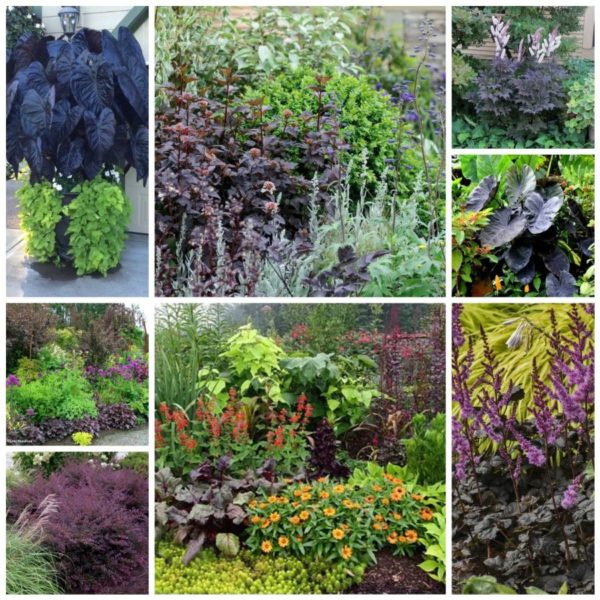 Designing with Dark Foliage
Garden design is all about mixing colors, textures, and bloom times to create a harmonious whole. Black is considered edgy and modern, and adding plants with near-black foliage can change the effect of the entire garden. Dark foliage is dramatic, unexpected, and striking.
Be spare in using darker plants. Decide on a few dark colored plants to serve as the star attraction of your garden space. Mix and mingle them throughout the beds and borders. Use dark shrubs or trees as the perfect backdrop for lighter and brighter plants.
I personally love the combination of very dark purple foliage next to chartreuse foliage in the picture below.
The combination of dark purple and a lighter green can also be quite elegant.
Dark-shaded colors can also seem to fade into the background. Using them in the back of the garden can be a way to trick the eye into thinking the space is bigger than it really is.
New cultivars of plants with foliage in shades of purples, browns and greens close to black are continuously being introduced. The trend of using these plants is one that I personally love, so I am very happy the selection of plants continues to grow.
Annuals that can be used in the garden, or in containers featuring dark foliage are select varieties of: Sweet Potato vine, Coleus, Basil, Alocasia, Amaranths, Ornamental Pepper, Canna and Ornamental Millet.
Perennials may include select varieties of: Ajuga, Cimicifuga Snakeroot, Joe-Pye Weed, Coral Bells, Penstemon, Hardy Hibiscus, and Sedum.
Trees and shrubs may include select varieties of: Japanese Maple, Ninebark, Elderberry, Smokebush, and Weigela.
Consider whether dark foliage colors would be an asset in your landscape, or annual plantings.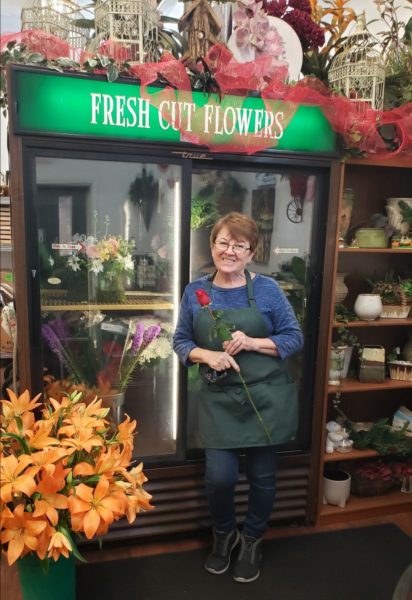 Meet Our New Lead Floral Designer
Last August, Deb Ottinger joined our team at The Plant Professionals. Dave Mansfield, our long-time florist, has taken a step back from his lead florist role to focus on health and family. We were excited to meet Deb, and add her talents to our team. We were able to have her work along side Dave, to get to know our clientele and event floral processes before taking the lead role.
Deb owned the Village Florist and Gift Shop in Dimondale, Michigan from 2007-2012. Prior to owning the shop, Deb had been a realtor. Deb was wanting something new and interesting to do after being widowed, and heard the flower shop was for sale. As a new owner she found the work challenging but rewarding, and quickly learned the business from the ground up. Deb had previously designed arrangements from flowers and foliage from her large garden, but never professionally until purchasing her shop. Deb has since taken professional floral arranging classes, and has found that her degree in Interior Design is an asset in her work.
After an illness, Deb decided to sell her shop in 2012, working there for a little while after to help the new owners. In 2014 Deb started work at a large local florist until the pandemic forced the shop to reduce staff.
In her spare time, she is an avid gardener, plays competitive billiards, cares for her cat, and loves to read. Before her husband became ill, Deb was the president of the Garden Club in Eaton Rapids, and had a garden at her home that took up a half of a football field! Deb also enjoys photography and has some of her photos on canvas for sale in the floral design room. She is mom to three daughters and has eight grandchildren, ages 14-30, that give her joy.
Deb loves to create fresh and unique pieces for each order, and enjoys designing for weddings and other events. Deb has a strong sense of style, line, and texture. Her depth of experience is a wonderful asset. She knows what is seasonally available, what flowers are scented, and has the knowledge to assist with virtually every floral challenge.
Stop in and see Deb between 10 a.m. and 2 p.m. Mondays, Tuesday, Thursdays, and Friday or noon to 4 p.m. Wednesday. Call for an appointment for wedding or event planning in person or on zoom. Deb is always excited to assist you.