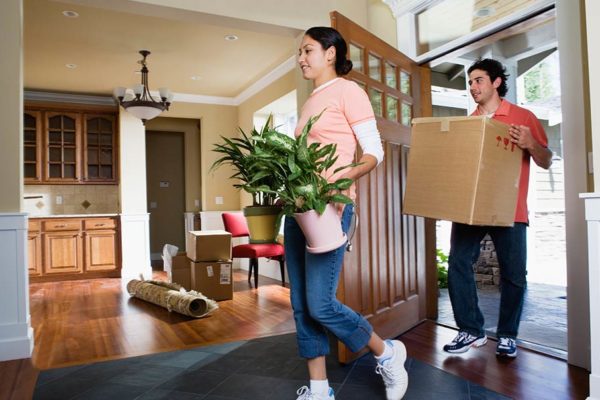 Where to Start?
When a first home is purchased, often there are projects within the home itself that take priority in the first year or two. Later there may be funds and time to work on the landscape and patio or deck features of the home.
I suggest a careful inventory of some basics on the outside of the house be done even before the purchase. Look for areas of potential concern that could impact the entire home. Especially if the structure is more that a few years old, there are three considerations that are crucial to protect investments you are making and structural challenges you may face over time.
Drainage changes over time as trees grow, sidewalks may shift, roots may fill drain pipes, and compaction from runoff can change slope from level or slightly-slanted outward to uneven or actually sending water back to the foundation. Look carefully at gutters and downspouts during a rain event and immediately afterward to see how well water drains away from the foundations and property.
Take photos when water is actively moving to show to contractors you may take bids from for corrective work. Are the discharge pipes long enough and well-placed? Will the waters of summer be a problem in winter, when water may freeze before it can seep into the soil? Water should run significantly away from the home, not be discharged within a few feet of the foundation.
Consider whether the sewer line may be partially clogged with roots – a problem that will only get worse. A little water leaking back down a basement wall from a clogged gutter is a concern, a clogged sewer pipe can be a catastrophe. Look for and correct drainage issues before investing in interior work that could be damaged.
Look carefully at trees on the property. Are they all planted or intentional landscape trees, or do you have some "volunteer" trees like box elder, elms or maples that grew up near the side of the house or garage and lean out to catch the sun? If unsure, take photos and ask a professional for an opinion. Often as the volunteers grow, they become damaging to foundations, siding and roofs. The sooner they are removed, the less the cost and hassle.
Are the landscape trees healthy, and are they planted at an appropriate distance from structures and from each other? Do you see any cracks where limbs join the trunk? Any signs of rotting or hollow area of trunk or limbs? Are there trees that lean? Any trees growing into wires or structures of any kind? Assess or get professional assistance and never prune or cut limbs when wires are in or under any part of a tree.
Do you see evidence of bees or ants entering a structure or a tree? This takes some careful observation to detect. If you have bees in a structure you want to solve that for safety and to minimize structural damage. Carpenter ants can also do considerable damage. If in a tree, either observation likely means there is a hollow section which means the tree is likely weakened and might come down in a storm.
Evaluate these factors early – preferably before purchasing, or before beginning expensive improvements that could be impacted by one of these problems.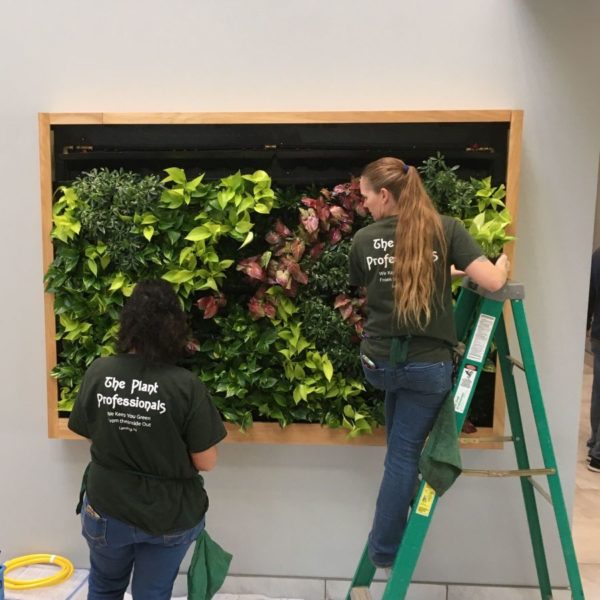 The growth of our interiorscape business has been fueled by major projects undertaken by some of our larger existing customers, as well as some clients that are new to us. We love working with the professional design teams of architect, interior designer, and space planners to help create a plantscape that not only finishes the space, but often helps define that space and create the biophilic impacts so important in these times. Our role is to provide the needed information on what the plants we recommend and source actually need to thrive – light, temperature control, drainage, level of hydration. We often incorporate green walls, and so must add safe and efficient access for our service technicians for plant care to the list of must-haves.
Medical environments typically require hard-surfaced containers and top dressing of smooth pebbles, for ease of cleaning and sanitation. Planters for event spaces need to be easily mobile, and the plants must be adaptable to being moved without undo stress. Waiting areas often call for linear planters for separation between seating areas, and both floor planters and mobile green wall panels may be used.
Every project has a color palette, a design style and a budget that we must be attuned to. Whether an update of an existing space or an entirely new facility, we always welcome new opportunities. Call Carol or Kathy at 517-327-1059 to discuss your upcoming project.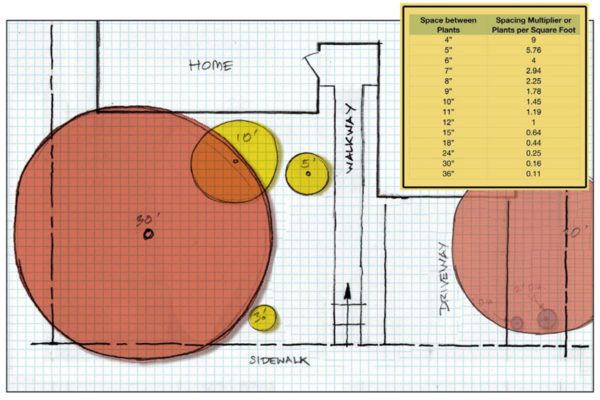 How Many, How Big, How Far Apart?
Aside from the fact that not all people are landscape designers by skill or training, one of the big challenges for homeowners planning a landscape update is the title above. Typically, a bed that accents the front of a home might have a feature tree, some shrubbery and often some perennials that add color and texture during the warm months.
In my experience, even when people read the tag on a specimen or research before a purchase and see that a tree species will get 15-20' tall or shrubs that will get 3' by 3', most people don't either draw a plan to scale or actually measure and stake out the layout before going to the nursery. That desired tree or shrub may not fit into their garden space. Before going to the nursery, it is important to plan ahead.
If that tree interests you, get a 25' tape measure and measure out from the corner or side of the house and place a stake 20' away from the house. Why 20'? That little tree, which is probably in a pot, has one main stem and a few small branches and may stand 3-4' tall now…. will likely get 20'. The tree may get a little larger, and needs to be out from under the eves and placed so it never can hang down onto the roof or siding. You will always want to be able to power wash the siding, clean the windows and work around the tree, even when mature.
Think about each of the other elements of your design layout and place small stakes for each shrub and perennial, allowing a little extra room to get between, and thinking about how they will look together in each season and at each angle. Don't forget to look out the windows and envision what the view will be from inside the home immediately and when all have matured. When plants are small it is tempting to plant them closer together and add more plants to fill space. Resist that urge. Plant some annuals for the first few years. Always use a quality bark mulch of appropriate depth and that will give a polished look to the new planting.
Often plants in retail nurseries look appealing and have a colorful tag showing the plant in bloom. Read the tag carefully. The specimen tag should show information on cold hardiness, mature size, vulnerability to deer and whether the plant requires sun or shade. You might look today and find a supply of hydrangeas that say they like partial shade and are pictured with blue blossoms. Perhaps you go back next week to purchase and load a few hydrangeas into your cart. Be sure to read the tag completely again- a similar-looking plant may require full sun, may not bloom well in your zone and may even require regular soil treatments to affect acidity to produce blue blossoms if it does bloom.
Double check your spacing before digging and preparing the planting holes. Be sure you like the elements together; you can envision the relative heights at maturity and that you have considered what maintenance will be required. A little planning of how many, how big and how far apart will make your garden much more satisfying in years to come.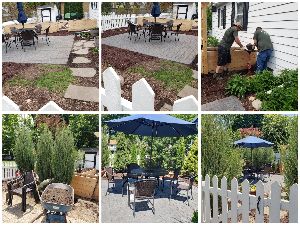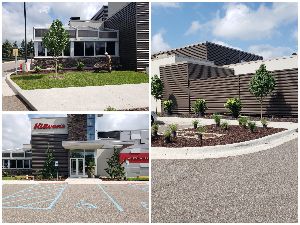 As 2021 is drawing to a close, we reflect with appreciation on the many projects we were privileged to design, install and maintain this year. The landscape team installed several new and interesting landscapes for both commercial and residential properties. At Klavon's in Mason, we added beautiful perennials and ornamental grasses to the tree beds in the parking lot. Along the building, we installed Hydrangeas and perennials that will add year-round interest through color, texture, and bloom time.

One of my personal favorites involved working closely with a homeowner to create a fabulous secret garden. The homeowner has a passion for gardening and had a picture-perfect landscape in place already. The client added a new patio to the backyard in early spring, and worked with us to curate a variety of narrow growing evergreens to provide privacy.

Another project we engineered was creating a parking area for the homeowners' RV. We used Michigan boulders to retain the sloping area above the parking area, graded and added soil so water flowed away from the house, added quality landscape fabric and Michigan stone.

We have offered year-round, monthly landscape bed maintenance for the last several years, but this summer that area of our exteriorscape really grew. We love maintaining our clients' gardens and managing them throughout the seasons. We deadhead spent blooms, remove weeds, and prune where necessary.  In spring and fall, we also remove leaves and apply pre-emergent herbicide and fertilize the garden beds.

Our landscape team and client list have continued to grow, and The Plant Professionals has been privileged to work with many businesses and homeowners. We continue to expand our client list whenever our services are a good fit for the client. Call Alexa at 517-327-1059 to schedule an appointment.