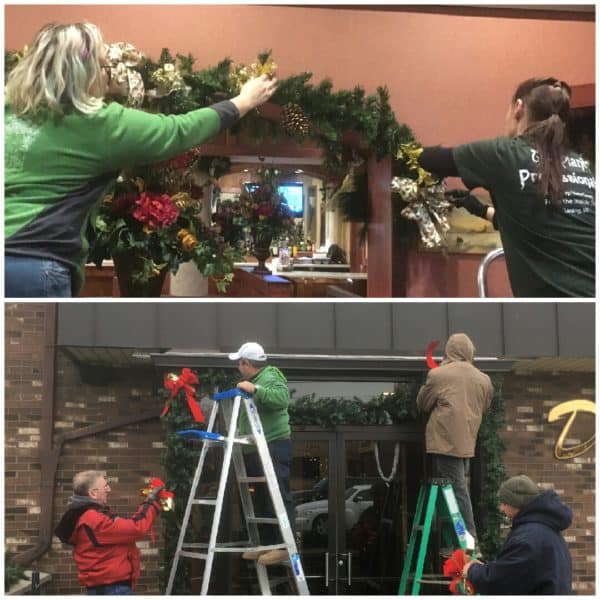 Silver Bells and Pizza Smells
It is a Friday afternoon, 2:45 rolls around- but we are far from done for the day. November 17th, Silver Bells in the City is tonight. Alexa and Karen are ready to roll out with fresh greens planters and festive LED-lit garlands, glittering in red and silver for the broadcast booth of Fox 47.
Eight of us began the day at Deluca's Restaurant, home of arguably the best pizza on the west side, and now decorated in burgundy and gold inside, red and gold outside. Deluca's is ready for holiday parties and gatherings of family and friends.
Al has engineered another great installation experience, and I sprang for a couple of large pizzas…can't ask elves to work hard, smell all that wonderful food , and not take home a treat for the gang back at the facility. When we returned, Dave was hand-tying beautiful bows in red velvette, and the scent of balsam and pine filled the air. Joe was practically running the steps, posting work orders and getting information for customers, with Lisa calmly handling billings, phones and the mail.
A row of freshly-decorated door wreaths line the entryway, ready for walk-n customers, and the first round of poinsettias brighten the benches. Renae is carefully watering through the warehouse, stocked full of tropical plants for an upcoming commercial installation. Somehow, we always have a major Plantscape installation which falls in the middle of decorating season. We are so fortunate to have willing workers who love plants.
Beth and Deb wear a little glitter on their faces…a common occurrence with so much glittered décor and so many projects to complete. A lot of time is spent looking up as we decorate trees and wreaths. Three customers have said "yes" to proposals for new décor in the last 24 hours. Last night I stayed late, compiling the orders for items needed from various suppliers, and wrapping and cutting floral wire with Chris. Using our custom wrapped wire allows us to decorate with precision and not scratch the metal and wood surfaces in client homes and lobbies.
Yoennis, Jaimer, Jeff, Chuck, Dave, Leordany and Scott have been literally all over town this week, filling planters with fresh greens arrangements, hanging garlands, delivering decorated trees, hanging wreaths. It takes many willing hands to do all that we do, and I am so grateful for the opportunity to work with this wonderful family of friends.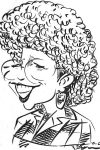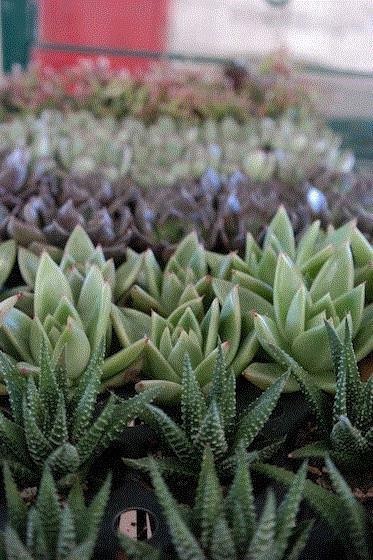 Succulents
Succulents are highly sought and very easy to care for, if you have bright natural light. Bright natural light in Michigan is a south window or an east or west window with no window covering (drapes, shears, blinds or awning). In addition, succulents thrive when there are no evergreen trees outside or deciduous trees that block the full sun when they have leaves. The light must be bright enough to make you squint, and create heat you can feel. The light must shine brightly on the foliage of the plant, not above or below it, but on most of its foliage an average of four hours daily.
If you have bright natural light, a grouping of succulents are a joy to collect and care for. They require little care, with watering required only every other week. They will require repotting every few years. Keep them in small pots, clay if possible, and never let water stand in the saucers. Rotate so they stay rounded and straight. Do not fertilize for the first year. Growth will be slow. If they appear to stretch, or if leaves or internodes get longer, they are not getting enough light, and need to be moved to a brighter location.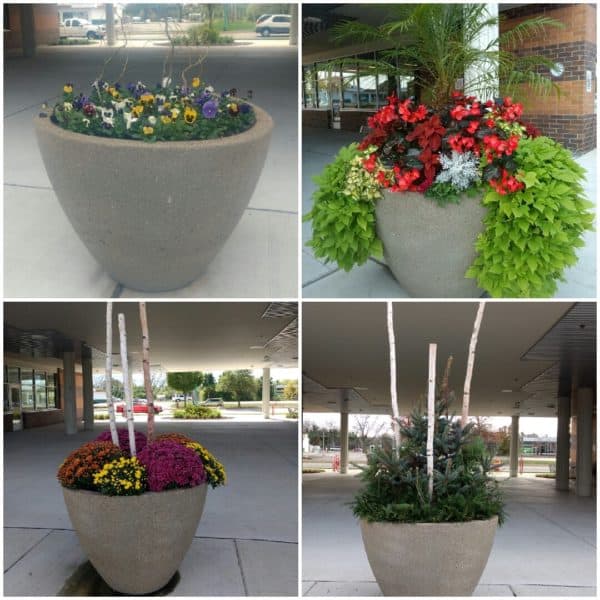 Container Gardens
Container gardens brighten up entries, patios, decks, and other outdoor spaces, both large and small. The versatility of the container garden is one of its greatest assets; plants are easily changed for every season.
After a cold and gray winter, the cheery faces of brightly-colored pansies and curly willow branches are a welcome sight in spring. In summer, the options of annuals with different colors and textures are abundant. As fall arrives, a rainbow of Chrysanthemums and sturdy Kale fill the containers nicely. Once the weather is cold, mixed evergreen branches, birch bark poles, and red twig dogwood make a lovely impact until spring.
Healthy and robust plants, good drainage and quality potting mix are the keys to successful container displays. A good potting mix is fluffy, holds moisture, and provides the perfect balance of air, nutrition, and drainage. Look for quality ingredients listed on your bag of potting mix, such as aged bark, perlite, vermiculite, lime, sphagnum peat moss, compost, and a wetting agent.
When planing what to put into your container, focus on combining of thrillers, fillers, and spillers. Thrillers are usually vertical and can make a bold statement. Popular thrillers are Canna, cordyline, Elephant Ear, Grasses, Hibiscus, and Millet. Fillers tend to be horizontal or bushy. Begonia, Coleus, Impatiens, African Daisy, Geranium, Petunia, Salvia, and Verbena are common choices. Spillers are cascading. Popular cascading plants are Sweet Potato Vine, Licorice plant, and Lobelia. When selecting plants, think about their eventual height, shape and growth habit.
Successful container combinations usually include at least one  thriller, filler, and spiller. In some formal gardens, a strong architectural statement can be created by placing just one bold plant in the middle of the container, such as a Pygmy Date Palm, Boxwood or Skyrocket Juniper.
Considering the growing conditions is very important. Will the container be in the sun, shade, or a combination? It is also important to combine plants with similar moisture requirements.
Maintain plants regularly to keep them in tip top shape. In the summer growing season, there are regular maintenance tasks to perform, besides consistent watering, to keep the plantings looking their best. Spent flowers will need deadheading, trailing stems will need trimming, and the plants will need regular feeding. By preventing old flowers from setting seed, deadheading promotes the formation of new flowers. Spent, dead flowers also detract from the display. Plants grown in containers have limited access to nutrients, and the supply is quickly exhausted. Either controlled release fertilizer pellets mixed into the potting mix at planting time, or watering the plants with a soluble powdered fertilizer every two weeks will keep them well fed. Management of the more vigorous plants may be necessary so they don't overwhelm their neighbors. Keep the growth in check with regular trimming. The spillers can have a tendency to creep all the way down the pot and along the ground if not pruned regularly. Keep spillers trimmed six inches from the ground or patio to deter slugs.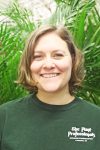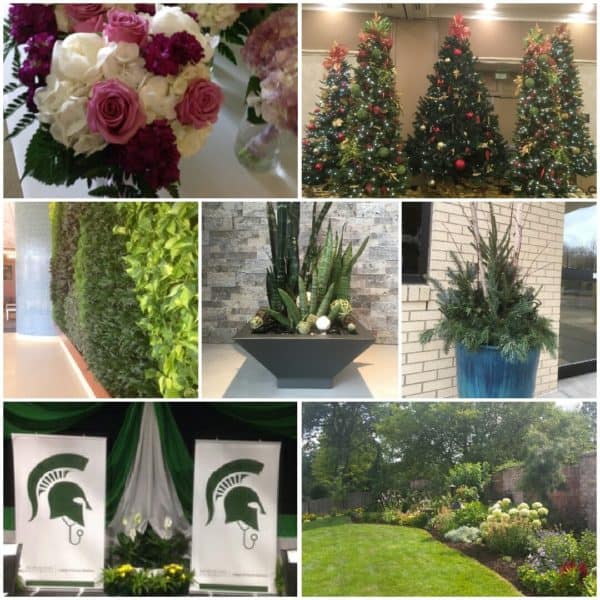 Thank You!
As this year draws to an end, we would like to thank everyone for the continued support of The Plant Professionals. Whether you called us for spring clean-up, a fallen tree, weeding your perennial garden, or designing a new landscape, we thank you. Whether you allowed us to dress the stage for your annual meeting or the hall for your wedding, we thank you. Whether you ordered flowers to commemorate a birth, celebrate an anniversary, or send your condolences after a loss, we thank you. Whether we cared for your tropical plants year long, you called upon us for a repotting or pruning, or allowed us to design something new and wonderful for you, we thank you. Whether we created a new Holiday tree, wreath, or garland, or simply installed your decor we store for you, we thank you. Whether we installed a new live wall, maintained your existing wall, or created a preserved moss wall, we thank you.  We have enjoyed making new friends this year, and truly appreciate both our new and cherished long-term clients. We wish the best to each of you in the new year.