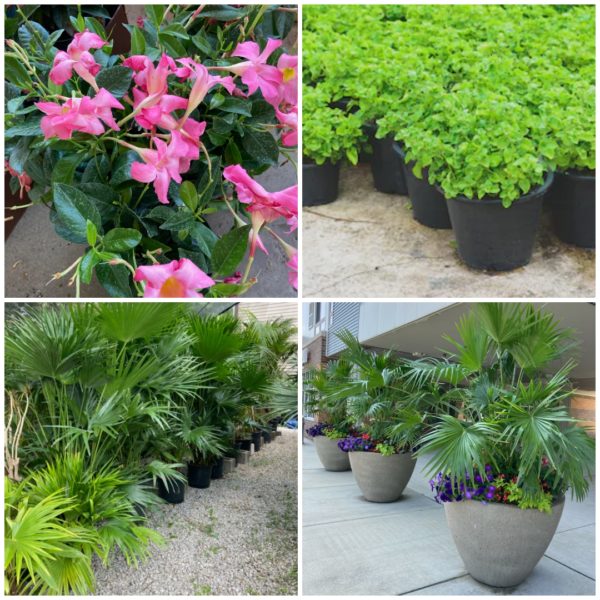 The Art of Choosing
One of the challenges of business is predicting where to place resources. What plant trends will continue to develop, and which will fade? What design styles will be embraced? Will the looks that clients crave be easy to source or will availability be limited?
Our goal is always to provide healthy and attractive plants that will thrive in the planted environment, indoors or out. Plants are grown in nurseries or on farms as crops. The beautiful sansevieria that will grace a client's lobby will be produced in Florida in a shade house. The unique Coneflower that Alexa will specify for a landscape will be raised in a west Michigan nursery before we pick it out for our client. We are constantly working with growers and brokers to learn what will be available, how the crops are being produced, what is selling well. We also learn what will be produced in larger numbers the next crop cycle, and what may be dropped from production, or slow to develop to maturity.
We love to offer the new and the unique, but within the context of providing a good value and excellent quality. We also give thought to using design elements that can be dependably sourced to keep that design as intended over time, especially where groups of plants need to be consistent in size, coloration, and density. Often, we will try the new and unusual in locations where only a single plant, or perhaps a grouping of three is needed, rather than where dozens of plants need to fill or delineate a space.
Whether in the interior or exterior, a planter or bowl might be just the spot for something unique. Plants can easily change with the seasons or accentuate a particular color or feeling. Our designers can plan for accents that will complement the overall design. Not only plants but cut branches, pieces of art glass, metals, fabric, natural cones, seed pods, stones, or other ornaments can create a visual feast for the eye. By listening to the client, and learning about their likes, style, and budget, we can enhance the planted space with the design elements that will please.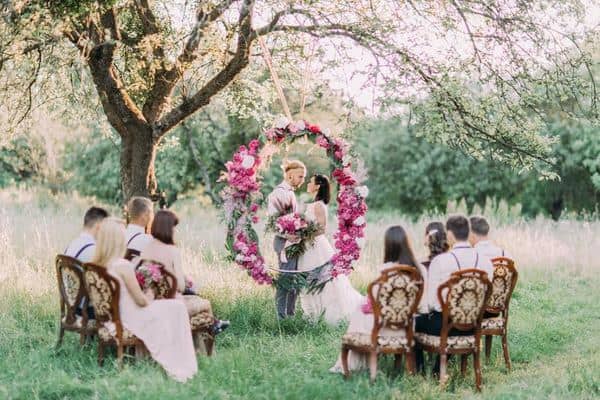 The Smaller Wedding
Sometimes couples prefer a small intimate gathering with their closest family and best friends. In 2020, that choice is the only option for most couples, if they are unable or unwilling to postpone their wedding. Given the uncertainty of when large indoor gatherings will be permitted and considered safe again, many weddings are outdoors and quite small.
By using a barn, wedding tent or a space under the shade of trees, the required social distancing and air circulation can be achieved. Often the gathering is limited to 25 or less, allowing for just immediate family and closest friends. CDC guidelines suggest 10 people or less, unless outdoors and socially distanced.
The challenges of serving food without sharing physical contact suggest a plated luncheon or dinner rather than a buffet, or perhaps just cupcakes or cheesecakes with a toast after the ceremony.
Flowers are typically scaled back to fit the more intimate setting and gathering. Outdoor spaces may use arbors, Shepard's hooks with hanging flowers or ferns, or potted plants to delineate space and add visual impact. The focus remains on colors and style that please the couple. The florist needs to know if the flowers can be kept cool on-site, as some species hold better in the heat of a summer outdoor wedding than others.
Elopement
While this term used to refer to an often-secret ceremony with just the couple and a legal officiant, some couples now choose to publicly elope, allowing them to announce their wedding, but keep the event small, inexpensive and personal.
The Minimony
This term has been coined for a small and simple gathering, usually abbreviated in both size and scope, including an officiant and very small guest list.
Micro-wedding
Think of a micro-wedding as a hybrid of an elopement and a big traditional wedding. All the bells and whistles, but scaled to 10-50 people. Again, if planning indoors, current pandemic limitations on gatherings may affect your plans.
The Sequel Wedding
Many couples who elect an Elopement, Minimony or Micro Wedding may plan to gather friends and family later for a big party. Though some do set a date and carry forward on this plan, don't be disappointed if this proves difficult, or if it becomes an anniversary event a few years in the future.
Discuss what is important to you as a couple, and how the passage of time, and waiting an additional year or two may change who will be with you to celebrate. Discuss with your vendors, your closest friends who have planned a wedding in the recent past, and with your closest family. Make your decisions together as to your plan of action.
What is most important is who you are choosing as your partner and how you create your life together now and in the future. Make your wedding truly one planned together, and plan a day that you will smile about for years to come.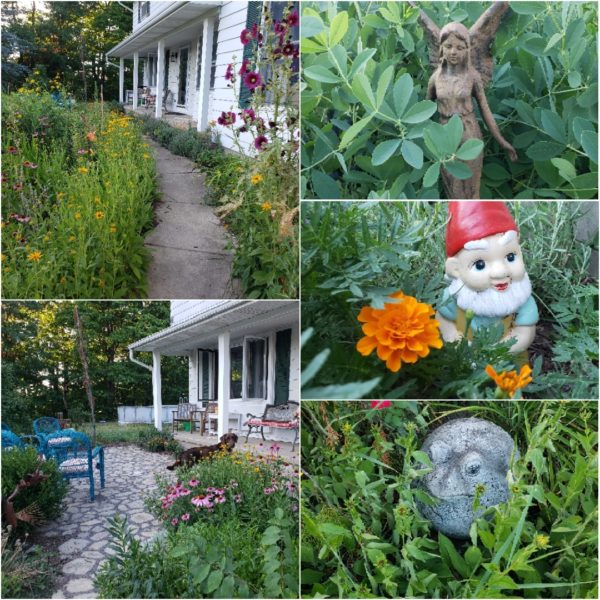 Entryway Gardens
The landscaping at your front entryway does not need to be a cookie-cutter garden. A few plants growing along the foundation and a straight shot walkway from the driveway to the door can become so much more. Entryway gardens should make an impact. The entryway yard may be the only space a visitor gets to see.
I remember working with my dad to install a patio, using forms to pour pavers in front of my entrance porch. My porch is so narrow that it is an unusable space. My dad didn't think a patio belonged in the front, and kept asking me why we weren't installing it in the backyard instead. Little did he know, this was only the first of several patio areas that I had planned. Once completed, it quickly became one of my favorite areas of the yard. My dad came to agree that it was the perfect spot to chat with visitors, or to enjoy the morning with something good to read and a nice cup of tea.
Entryway gardens are a reflection of who we are, and can be designed to make people feel instantly welcome. My front garden lets people know that I love plants, enjoy a riot of color, and have a creative eye. The feeders and birdbaths hint at my love of watching wildlife. The number of available chairs and the occasional skateboard or wandering chicken tells the tale of a busy, active family.
I like to insert personal touches with my collection of gnomes, inherited from my grandmother. I love to hide them so they peek out of the foliage along the pathways. I also like to incorporate edible plants and vegetables such as grape tomatoes, basil, and chives to encourage my kids and visitors to stop, smell, nibble, and watch busy pollinators, as they wander their way to the door. I especially love to see my honey bees gathering nectar for the hive.
Pondless waterfalls or fountains near the front door can be used to mask urban noise, and are soothing and relaxing. A great addition in stressful times.
Lighted pathways offer a more welcoming feel to a home's entryway. There are so many different lighting options available on the market today. They range vastly in price, style, material. They may be hard-wired into a low voltage system or solar. One idea that I recently saw on Pinterest (that I would like to try), is using exterior rope lighting. Seamlessly tucked along the edge of the pathway, they have low visibility during the day. At night they cast a soft glow, helping to guide guests to the door.
Plants used in the front yard and entryway garden need to complement the building, and provide interest for all seasons through the use of color, texture, and bloom time. Use a mixture of perennials, both deciduous and evergreen shrubs, and trees to create layers of color and texture.
Clematis, climbing hydrangea, or climbing roses on a trellis add vertical interest along a wall, and draw attention from one point to the next.
To accent the front door, paint it a bright color and place a planter nearby that matches or complements the tone.
Smooth flowing lines of the beds and walkways add to the feeling of comfort. Broad paved pathways that converge can create a beautiful small plaza. I love my duel borders of interesting plants that draw a guest down the walkway to the front door.
I love to be able to challenge the "rules'" of landscape design.  Creating a landscape that complements not only the building, but those living inside, while giving a visitor an inviting and comfortable feeling is very rewarding. If you think your entryway garden needs attention, The Plant Professionals would be pleased to schedule a visit and provide a quote.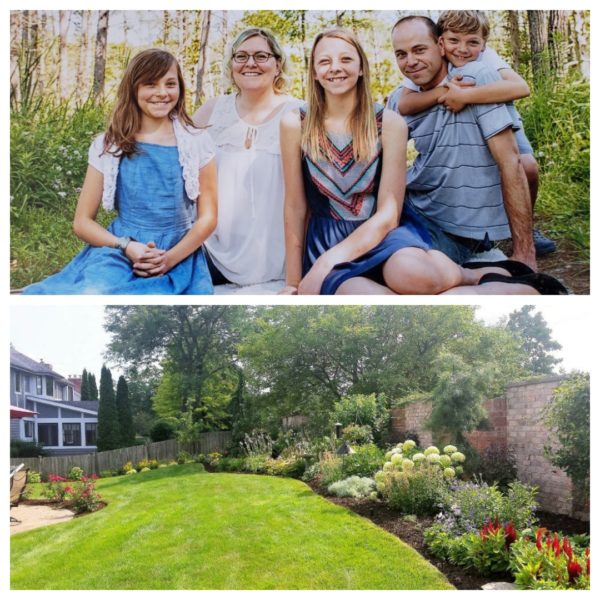 Growing Up Green
When you contact The Plant Professionals for exterior landscaping services, you will almost certainly meet with Alexa LeBaron. Alexa brings great depth of knowledge and enthusiasm for plants, and yet she is always willing to hear the ideas of others, and will patiently explain the "why" of what she recommends.
Clients tell me they enjoy Alexa because she doesn't judge, she understands the need for a budget, and is willing to design major changes in stages when needed, to make the budget work. Alexa has a reputation for being positive and encouraging.
The joke in her family is that chlorophyll runs in their veins. Great grandfather Joseph Castiglione, born in Sicily, Italy, had dreams of becoming a farmer. While in his 20s Joseph immigrated to Detroit, Michigan where he worked for Ford Motor Company, while making his dream a reality. Alexa's dad grew up next door working on the farm and passed on his love for playing in the dirt.
From a very young age, she joined her dad in the garden. She was still a small fry when mom worked up a small garden to call her own. She got to pick the flowering plants, and then plant, water, and weed that little bed on her own.
In her junior and senior year of high school, half of the school day happened at Oakland Technical Center, earning a two-year certificate in landscape and greenhouse management. There was only one other female in the class. Alexa loved the program and decided she wanted a career in Horticulture.
Upon graduating from high school, she worked at Bogie Lake Greenhouse for the summer, watering stock, transplanting seedlings, and helping customers.
When school was out for the summer the next year, she found a job watering nursery stock at Milford Gardens. Alexa continued to work there while attending community college and, on the weekends, and summers while attending MSU. Over the years of working there, Alexa became their landscape designer and the manager of the nursery.
After taking basics at Oakland Community College, she started in the Landscape Architecture program at MSU, but came to realize that what she loved most was designing with plants, not designing parking lots, sidewalks and rows of trees. She didn't really care about paving patterns, or what the building looked like. She wanted to know how and where the landscape plants grew well. So, after one year studying Landscape Architecture, she changed her major to Horticulture with a focus on design/build.
Alexa graduated from MSU in 2000 and married.  After the wedding, they settled in Lansing. It was now May, and all the landscape or nursery companies had hired their designers for the season. When she spoke to her Mother-in-law about the difficulty finding a job, she told her about The Plant Professionals. She had enjoyed working here and thought it might be a fit.  Alexa was soon hired and trained to be an interior plantscape technician, quickly being elevated to department supervisor.
After two years working here, Alexa and Andrew welcomed a daughter. Years later, we can still see the marks left on the walls in the group office where baby gates kept her contained away from the stairs. Two years later, another daughter brought the decision to stay home with the growing babies for awhile.
The LeBarons' third child arrived during that time, and once he was old enough to attend pre-school, it was time to get back out into the world of horticulture again. During those years away, Al Marrero had joined the company. He and Kathy were developing an exterior division! Alexa was able to return to her horticultural roots as a landscape designer here at The Plant Professionals.
This October will be Alexa's 13th year working with this team. She loves meeting with clients, building relationships with our clients and crew, and watching the landscapes grow and progress. When meeting with clients, she listens to what they are looking for and paints a picture of what that looks like in her mind. Only then does she sit down at the desk and translate that picture to graph paper or computer-generated design program.
Alexa designs gardens in several styles, including cottage, traditional, modern, mid-century modern, Japanese, formal, dry or rock garden, and prairie. Alexa incorporates pollinator friendly plants almost reflexively (as she is a bee-keeper) and will also focus on native and near-native plants as part of that process. Alexa enjoys researching and trying new approaches while staying mindful of her clients goals.
Outside of work, Alexa loves to paint on canvas, tile coasters and trivets, and now furniture. Painting is a way to relax and unwind at the end of the day.
Alexa helps with her kids' church youth group, and the theater department at the schools. It is very rewarding to teach a young teen how to use power tools. She says she will never forget helping a young lady use an impact driver for the first time. She thanked her afterwards and shared how she felt so empowered.  Volunteering on the theatre set building and painting crews have been such a great way to bond with the kids and other parents.
Alexa might confess that after spending the days working on other landscapes, and running three kids to all their activities, there is little time for her own gardens. Her motto is: "If I have to do anything beyond watering the first year, it doesn't belong in my garden." As a result, she has great knowledge about low-maintenance landscaping that has lively design elements and a flair for fun. Plants that require little maintenance are often the first request when meeting with a new client.