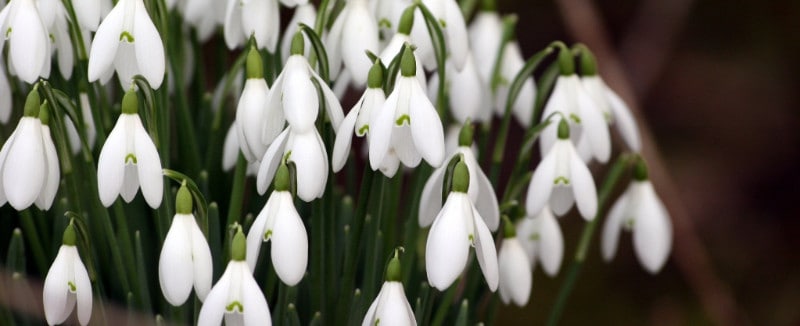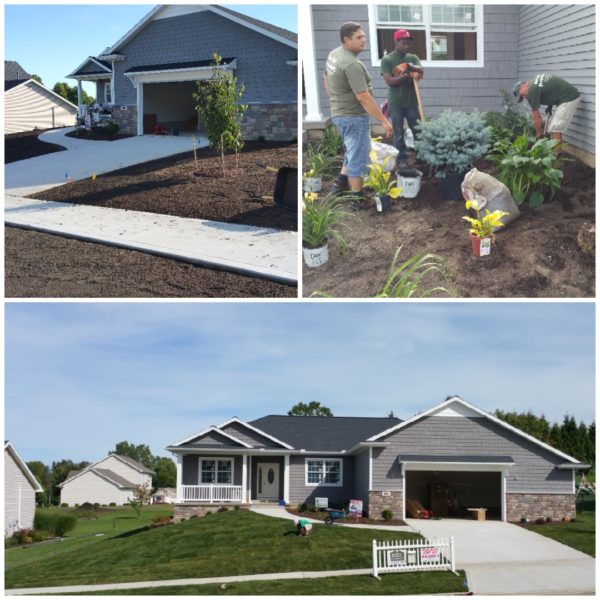 New Build Blues
An author often fears the blank page. For a landscape designer, there is seldom a blank slate. Even if a project is still only virtual, the client provides a drawing of the home and any other buildings where The Plant Professionals' outdoor crew will install a garden, outdoor color, pathways, firepits and other client needs. Ideally, the purchaser has selected a site and purchased land ideally suited to the home and gardens of their dreams.
Usually, there are compromises. Often, the site is fairly small and is located in a new neighborhood where several homes are being constructed at one time. Often, the topsoil has all been stripped away in preparation for pouring the foundation. Some clients may have a steep artificial slope to accommodate a walk-out from the lower level. Your new custom home can quickly become cookie-cutter in the appearance of the landscape, if serious thought is not given to your needs.
When a builder is developing a series of lots, the variation in the home layout and sizes of the homes may be limited. Often you will notice that one landscape designer has repeated 2-3 basic designs throughout the neighborhood.
The landowner can accept the builder's landscaper costs, or request the landscape design be excluded from the build cost. Then, the client can hire a preferred landscape firm to design and install a garden and landscape uniquely suited to your new home site and your landscape preferences. Before signing papers for home construction, consider what specific garden or landscape features you may want. If you want specific features in your garden, or if it is important to you that your home's appearance be unique, or if you have specific uses in mind such as a vegetable garden, a cutting garden or an arbor, always explore your options before you sign the papers for the construction of the home. You may choose to leave the lawn seeding to the builder and only take control of the foundation plantings and the one or two feature trees required by zoning. Don't be surprised to be told that only $3000-5000 of budget may be available to work with, even though in theory 10% of a new build should be dedicated to the landscape, drive and any other exterior features.
What Plant Will be a Good, Easy Care Choice for This Location?
This is the big question people ask when they are new to using plants indoors, or considering sending a gift.  Sometimes they literally ask us what the hardest plant is to kill!
So much of the answer is based on available light. Many species we love require some direct natural light, or require medium to high levels of light. One plant type with broad adaptability is the Pothos. Pothos or Epipremnum aureum is a vining plant.  Native to the Society Islands of French Polynesia, it has been in common use for generations.   Most often it can be used as a hanging basket indoors, but 4" and 6" sizes can be used in green walls, as tabletop plants or as ground cover in atrium beds. This versatile and sturdy species may also be trained to grow up bark slabs, fiber totems or even tripods of stakes, creating plants of 4' or 6' heights for narrow locations.
Adaptable from low light up to moderately high light, varieties like, Jade, Marble Queen, Golden and Silver Satin enable coordination with any décor. Because it grows quickly and easily roots in water, it is a favorite to prune and create an additional plant to use or share with friends. When vines get long and bare, simply prune a few at a time back to the rim of the pot in spring, add some fresh soil or fertilizer, and the plant will renew itself in a few weeks.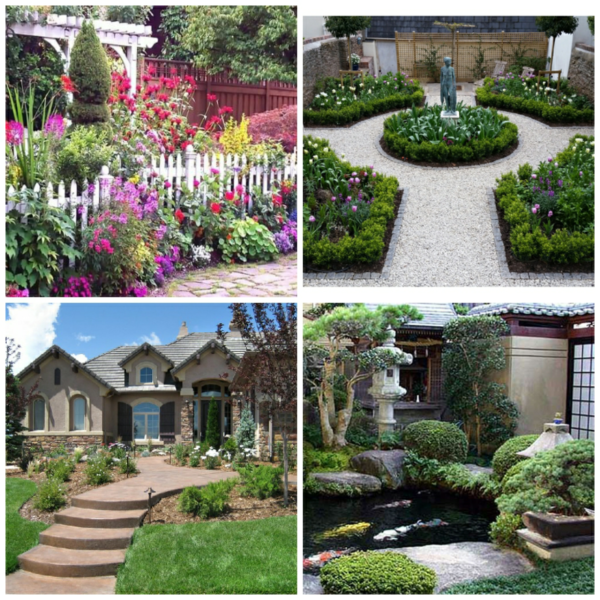 What is Your Landscape Style?
Early spring is great time to plan your garden style, so you are ready for action when the planting season begins. You can pick one style for your entire landscape, or mix styles for different areas of the yard. My house has large cottage gardens in the front, and a Japanese garden in the back.
Cottage-style gardens are informal and profusely planted. They have a seemingly random and carefree form. Cottage gardens often make me think of a Thomas Kinkade painting. This style of gardening originated in England, with workers that lived in the village cottages. The gardens provided food, herbs, and flowers.
Formal gardens are highly organized. This type of garden is characterized by straight lines, geometric forms, symmetry, and a central axis, usually leading to the house. This style of garden is inspired by Roman architecture. Formal gardens have a strong sense of structure, often delineated with hedges, walls, and paths.
Informal gardens are designed with curving, instead of straight lines. The idea is to mimic nature. The curving lines should serve to soothe the eye with loose, flowing forms, but if you put too many curves into the garden the design may become busy. Rhythm and flow is created by repeating plants and shapes. A rule of thumb is to group plants in clumps of three or more. This is the most common style of garden in mid-Michigan.
Japanese gardens are becoming more popular, although they can be harder to create. These gardens provide an oasis of serenity in what seems a chaotic world. Japanese garden are meant to be both a visual and spiritual experience. The main elements of Japanese gardens are trees, shrubs, water, and stone. Traditionally Japanese gardens have a small structure at the heart of the garden which looks out over the rest of the garden. These are just a few  examples of the many garden styles.
When I meet with a client for their design consultation, one of the most important steps is to find what style that best suits their needs. I would not suggest a formal garden for a client that wants low maintenance, nor would I suggest a cottage garden for a arts and crafts home. I love helping each person define and develop their own personal landscape design style. With the amazing selection of plants to choose from, the fun and challenge is working out a design and plant list that looks beautiful and grows well in your space. We can help you create your own personal paradise this year.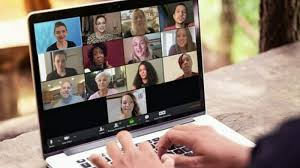 Who Do We "Associate With"?
The Plant Professionals as an organization has certainly been active in organizations . We belong to the DeWitt Area Chamber of Commerce, Lansing Area Chamber of Commerce, Michigan Chamber of Commerce, and the Small Business Association of Michigan. All these teams help us with networking, education on issues of legislation that impact the business, and access to special insurance and other benefit programs. We serve on boards, sponsor events and host or provide décor for events. These connections have been essential navigating the last year of uncertainty and economic fallout.
The Old Town Commercial Association allows us to network with Old Town businesses and keep up on area events and issues. Our membership in the Greater Lansing Convention and Visitors Bureau provides advocacy and networking for us focused on our floral and events work. We look forward to when the annual breakfast and holiday open house can be in person events again. MABA, the Meridian Area Business Association offers networking, promotion of local businesses and great enthusiasm and energy. Local First Mid -Michigan  brings local business people together for networking and doing business with each other.
We belong to Business Network International, a structured referral organization with a great educational focus and a proven track record of helping individuals become better public speakers and businesses become more referral driven. There is nothing better than having people who know you and your capabilities well and who enthusiastically recommend you to other professionals and to clients.
We belong to The Trade Network, a formal bartering network that allows us to provide floral work, holiday décor, moss walls, tropical plants and even landscaping to members . In turn, we can use our trade dollars for over 200 other businesses providing products and services from snow plowing and lawn mowing to painting, gutters, window installation, DJ services, catering, event venues, IT, marketing, even accounting and legal services.
We were founding members of the National Interiorscape Network , a unique group of mid -sized to large independent interiorscapers across the United States, Canada and the United Kingdom. We are constantly sharing techniques for moss walls, brand evaluations of green walls, sources for special containers, etc. In normal times we meet twice a year in the home city of a member and tour their facilities, attend presentations on a variety of topics and evaluate the results of our twice- yearly financial benchmarking. Strong friendships and great ideas result, even via Zoom. Often partners seek out fellow partners in other cities to handle plant care for branches of large client firms .
Another great resource is AmericanHort, a national organization based in Ohio and encompassing members in landscape, nursery, greenhouse, floral, interiorscape and  garden centers. Members include breeders, researchers, educators, suppliers, designers and manufacturers as well as retail businesses and growers. Putting on the largest national horticulture trade show and educational event in our country, this organization pulled off a quality virtual event last August and is gearing up for a great event this year, whether in person or virtual. A notable benefit of this event is the access to international sources from Europe, North, Central and South America, the Middle east and Asia. From Dutch bulb breeders to German equipment manufacturers, Italian terra cotta to Vietnamese pottery, Canadian Cyclamen to Ecuadoran roses, this is a hub of access and education.
We are long time members of the Great Lakes Floral Association, formerly the Michigan Floral Association. So many wonderful talented designers and many long- time businesses as well as fresh faces using their talents to create beauty. 
MNLA is the Michigan Nursery and Landscape Association, representing Landscapers and the Landscape Nurseries that grow stock for the industry. Another fine annual trade show, along with educational resources and representation regarding legislation and programs. 
Green Plants For Green Buildings is a national advocacy group promoting the use of plants indoors, and biophilic design. We often repost interesting items from their social media.
BOMA, or Building Owners and Managers Association connects us with facilities directors of many large Lansing area entities like BWL, JNL, Auto Owners, Farm Bureau, Sparrow, and TechSmith, as well as local design firms, consultants and other commercial service providers across many disciplines.
Athena WIN is a wonderful professional women's group developed right here in Lansing and focused on elevating women's careers through visibility, networking, education and influence.
Belonging to a local, professionally coordinated CEO Group has been very helpful. A growing business has new challenges every season, and having peers to discuss problems and opportunities with is a real help. Our association with these varied groups keeps us learning and adapting to serve our clients and customers.