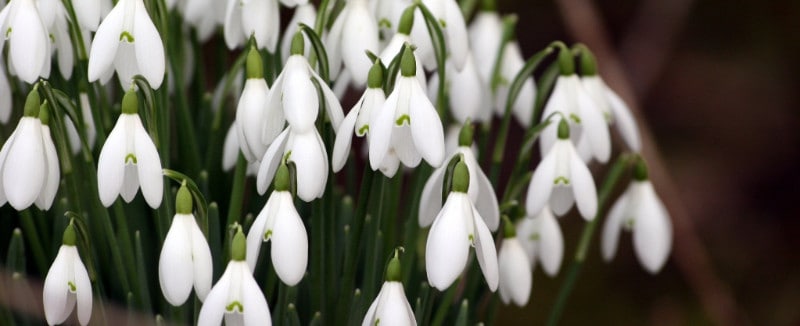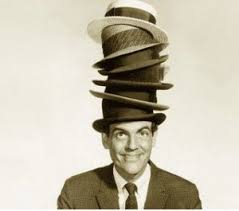 Wearing All the Hats
As the weather slides back and forth between yes, there will be spring; no, winter is still with us; and hey, let's have summer now- I think about all the hats we wear here, literally and figuratively.
On the literal side, the installers have both ball caps and knit winter caps for protection from sun, wind, rain and snow, as well as heat and cold.  Alexa wears her garden hat when out laying out plants in landscapes and working with the crews. Carol or I will wear a sunbonnet with fresh flowers, when we attend Hat in the Garden for the Sparrow fundraiser at Stella Cash's lovely home and garden.  At holiday decorating time, you might see the occasional red Santa hat, usually a humorous statement on our status as elves bringing Christmas joy. Hardhats are required when we work on active construction sites, whether walking through as designers, or returning to install green walls or plantscapes.
On the figurative side, we are designers, procurers, florists, assemblers, installers, bookkeeper, crafter of proposals, planters, schedulers, plant nurturers, managers, purchasers, carpenters, mechanics and cleaners. We all work together to serve you.
Most of us wear multiple hats, sometimes switching roles several times in one day.  On a May morning, an installer may begin the day sleeving and installing a plant rental at the Kellogg Center, then join a crew planting outdoor color. He might then swing back to Kellogg and pick up the plants at the appointed time, return to base to unload, and finish the day, watering hundreds of flats of annuals waiting to be installed.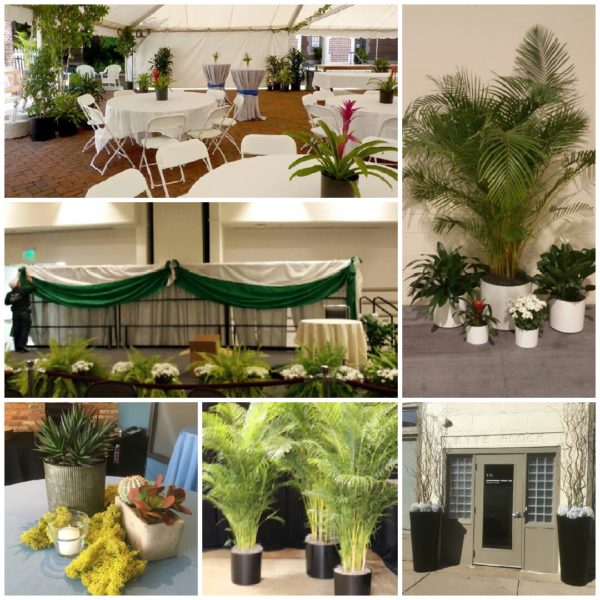 Why Rent Plants
The easy answer-renting for a one-day event is much less costly than buying. As a busy plant rental enterprise, we stock quality decorative cylinders and wood fiber moss top-dressing, own multiple temperature-controlled delivery vehicles, and employ several experienced installers.   We have access through our Florida growers to hundreds of varieties of plants in a wide range of sizes. We have produced a pictorial price list so that our clients can see what plants look like and the cost to rent them per day.
We have years of experience helping event planners, brides, marketing departments and realtors select the right plants for the venue, set-up and conditions, based on the time of year, setting, lead time and goals. We know each local venue, where the loading docks and access doors are, how each venue likes to work with vendors, and how long to allow for set-up and for take-down.
We are often referred to…Read More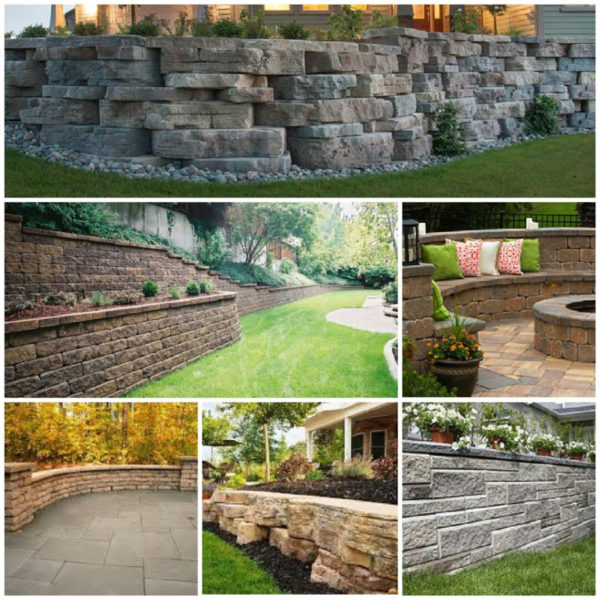 Manufactured Block and Stone Retaining and Accent Walls
Modular concrete block and stone are fairly sophisticated systems designed for strength, and fast, easy assembly. They can be made in any size and shape, and there is a large variety of style, color, and texture available.
Rosetta Hardscapes is a manufacturing company based here in Michigan, which creates concrete retaining wall systems, made from wetcast concrete. They pour the wet concrete into casts made from real stone. This system looks like natural stone, without the quarried stone drawbacks.  Manufactured stones are designed to easily fit together in a natural looking pattern. Natural stone comes in all thicknesses and shapes, and can be much more labor intensive to fit together properly.
Manufactured wall blocks and stone are not just for holding back earth…Read More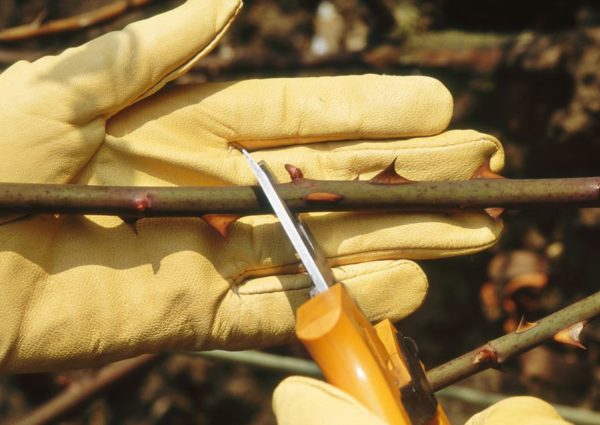 When Shall I Prune My Roses?
If you have modern shrub roses or tea roses, prune them while still dormant. In this stage, you can see buds, but the buds have not yet opened. Remove canes that are broken, obviously dead, or which are poorly spaced. Cut back to roughly 18-24 inch varied lengths.
The timing can range from February to early April in mid-Michigan. A good, easy-to-remember guide is to prune when your forsythia first begins blooming. Prune to open the shrub to light and air, and cut at a 45-degree angle a quarter inch above an outward facing bud.
If you have heritage climbing or shrub roses, they are usually best pruned after blooming, as they bear flowers on the previous year's wood. Always use clean, sharp pruning shears or lopper, cleaning the tools with alcohol before and after use, to prevent the spread of disease.