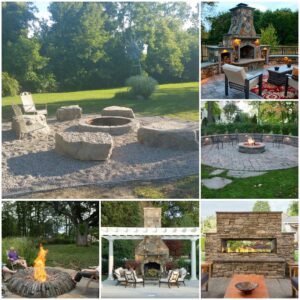 Fireplaces and Fire Pits
Fireplaces and fire pits have been evolving since the origin of controlled fire. You can now get as simple or fancy as time and budget allow. Kits are available to purchase from many big box stores for installed, standing, or mobile fire pits. Large fireplaces and fire pits are also available in kits from landscape suppliers for professional installation.
Both fire pits and fireplaces provide a visual focal point that adds warmth and lighting to the yard. An outdoor living room is high on most people's wish list, and a fire feature is often top-of-mind, when it comes to anchoring that outdoor room.
Fireplaces and fire pits are distinct structures that provide different experiences. The outdoor fireplace offers a romantic ambiance and more of an architectural statement. Smoke is directed up the chimney and away from guests. The structure may take up less space, as it is often built on the edge of a patio. Fireplaces can be part of a pavilion, allowing for mounting a television, and providing entertainment space, even rainy weather.  Fireplaces can only seat four to six people at a time facing the hearth and call for couches, tables, and chairs. They are also generally more expensive than fire pits.
Fire pits are usually more interactive, since you gather around them on all sides. This helps to facilitate conversations, and is the classic story-telling setting.  Built-in seating can be created on all sides of a fire pit, allowing 10-12 people to comfortably gather around most fire pits.
Both fireplaces and fire pits can be gas-burning as well as woodburning, and are ideal for those who live in dry areas that have frequent "no-burn" weather warnings. Whether you have an outdoor fireplace, fire pit, or both, they can provide a lot of enjoyment. There is nothing quite like sitting by the fire, with great company and a bag of marshmallows.