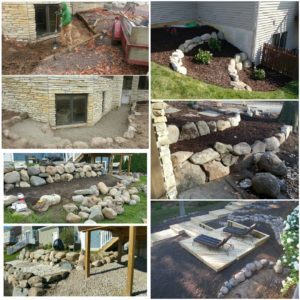 Boulder Retaining Walls
Boulders provide a beautiful natural look with the functionality necessary for an effective retaining wall. Supporting structures in the garden can be fabricated from many materials, such as cinder blocks, brick, wood, or manufactured retaining blocks. The advantage of using boulders is that they are both decorative and incredibly strong. Boulders do not suffer from weathering or erosion, when temperatures change. Properly installed boulder walls are budget-friendly and are very long lasting.
Boulders can used to terrace a yard into different levels, provide erosion control, or create raised beds. They can also define the slopes at a walk-out for a new home or addition, driveway entrances, or as a backdrop for business signage. Terracing slopes divide the land into functional areas where flowering plants or lawn can be grown. These large rocks give the feeling of strength and sturdiness, and are a very natural solution to a change in grade.
Retaining wall construction can be a bit of a challenge for the homeowner to install. Rocks are very dense and heavy and large boulders require mechanical equipment to lift the stone into place. The process of selecting the right stone out of the pile can be a very time consuming part of constructing the wall. The stones must fit together well, like a jigsaw puzzle, with the majority of the weight on the stone below, not the soil behind it.
Due to the weight and shape of the rocks, no mortar is required when constructing a sturdy wall. A major advantage of boulder retaining walls is that they offer natural drainage. When residential retaining walls fail, it is most often due to poor drainage. Using boulders ensures that excess water can drain through the wall.
Boulders come in a variety of sizes. It is important that the right size is used for both the look and functionality. The wall height usually determines the size boulder that is needed.  Any retaining wall over four feet, needs to be overseen by a civil engineer to ensure stability and safety. We have several suppliers of rocks and stones, with a wide range of colors and shapes to choose from.